Center for Clinical Trials (ZKS) at MHH
The ZKS is organized as staff office of the President and management board member for Research and Teaching in the board of directors of the Hannover Medical School (MHH). Constituted as of March 1 2021, it comprises the former staff offices Clinical Trial Services (CTS), Quality Management in Clinical Research, Early Clinical Trial Unit (ECTU) and Financial Management in Research and Teaching of MHH. The major task of ZKS is the effective support and coordination of all processes in clinical trials conducted at MHH, as well as the safeguarding and further development of quality in patient-oriented clinical research in the academic environment.
Clinical studies are an essential key to medical progress and thus one of the most important tasks of university medicine: As a central component of translational medicine, clinical trials are a key instrument in order to bring new medical research results from bench to bedside.
The ZKS of MHH supports and coordinates all trial sites at MHH and trial sites collaborating with MHH in the conception and execution of clinical trials at the MHH. For both the pharmaceutical industry and contract research organizations (CROs), ZKS is supporter and coordinator for medical research projects. The ZKS of the MHH offers its services as CRO within the framework of industrial cooperations.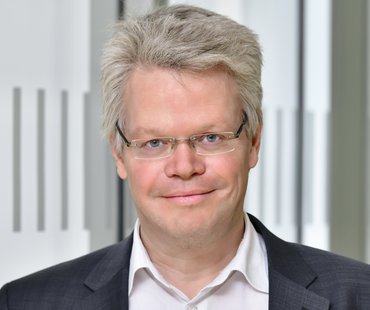 Prof. Dr. med. C. Schindler
CMO und Managing Head ZKS
Dipl.-Kfm. U. Blöß
Commercial Management, CFO
ZKS-Organization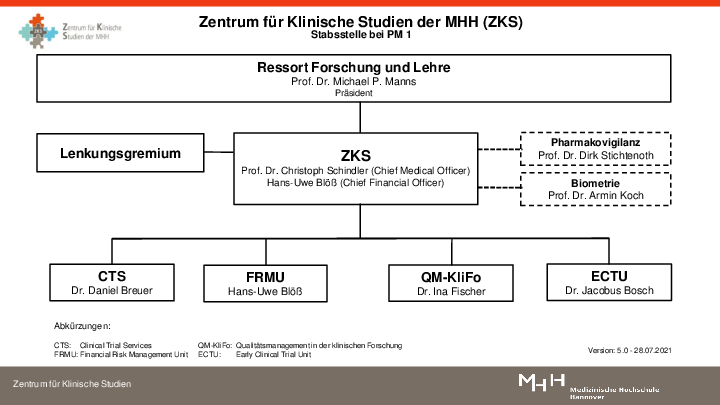 Hier als PDF zum runterladen