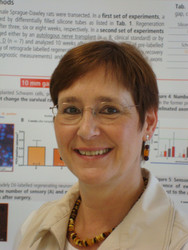 Curriculum vitae
Ausbildung
1976 bis 1981
Studium Biologie (Diplom) an der Freien Universität Berlin
1983
Promotion (Dr. rer. nat.); Thema: Experimentelle und morphologische Untersuchungen des neuroendokrinen Systems bei dem Polychaeten Ophryotrocha puerilis (Clap. & Mecz., 1869); Freie Universität Berlin
1991
Habilitation für das Fach Anatomie und Zellbiologie. Thema: Untersuchungen zur funktionellen Bedeutung des basischen Fibroblastenwachstumsfaktors im Nervensystem; Philipps-Universität Marburg
Beruflicher Werdegang
1983-1988
Wissenschaftliche Angestellte am Institut für Anatomie und Zellbiologie der Philipps-Universität Marburg
1988-1992
Hochschulassistentin (C1) am Institut für Anatomie und Zellbiologie der Philipps-Universität Marburg
1993-1998
Professur (C3) für Anatomie am Anatomischen Institut (Lehrstuhl II) der Universität Freiburg
seit 1998
Professur (C4), Direktorin des Instituts für Neuroanatomie und Zellbiologie, Zentrum Anatomie und Zellbiologie an der Medizinischen Hochschule Hannover
Wissenschaftliche und akademische Funktionen
2011 bis 2015
Koordinatorin des FP 7-HEALTH-278612 EU Projektes BIOHYBRID
seit 2002
Gründungsmitglied, Mitglied des Vorstands und stellvertretende Sprecherin (seit 2016) des Zentrums für Systemische Neurowissenschaften Hannover (ZSN)
2002-2021 Mitglied der Studienkommission PhD "Systems Neuroscience"
seit 2015
Gründungsmitglied und Präsidentin der European Society for the Study of Peripheral Nerve Repair and Regeneration (ESPNR e.V.)
2019-2020
Senior Editor, Mitglied im Editorial Board der Zeitschrift Brain and Behavior, Wiley
Ausgewählte Publikationen
1. Cesnulevicius K, Timmer M, Wesemann M, Thomas T, Barkhausen T, Grothe C. Nucleofection is the most efficient nonviral transfection method for neuronal Stem Cells derived from vetral mesencephali with no changes in cell composition or dopaminergic fate. Stem Cells, 24(12): 2776-91 (2006).

2. Timmer M, Cesnulevicius K, Winkler C, Kolb J, Lipokatic-Takacs E, Jungnickel J, Grothe C. Fibroblast Growth Factor (FGF)-2 and FGF Receptor 3 are required for the development of the substantia nigra and FGF-2 plays a crucial role for the rescue of dopaminergic neurons after 6-Hydroxydopamine lesion. J Neurosci, 27(3): 459-71 (2007).

3. Haastert K, Mauritz C, Chaturvedi S, Grothe C. Human and rat adult Schwann cell cultures: fast and efficient enrichment and highly effective non-viral transfection protocol. Nature Protocols, 2(1): 99-104 (2007).

4. Bruns AF, Bergeijk JV, Lorbeer C, Nölle A, Jungnickel J, Grothe C, Claus P.: Fibroblast growth factor-2 regulates the stability of nuclear bodies. Proc Natl Acad Sci USA, 106 (31): 12747-32 (2009).

5. Thau N, Jungnickel J, Knippenberg S, Ratzka A, Dengler R, Petri S*, Grothe C*. Prolonged survival and milder impairment of motor function in the SOD1 ALS mouse model devoid of fibroblast growth factor 2. Neurobiol Dis. 47: 248-257(2012). *These authors contributed equally as senior authors.

6. Haastert-Talini K, Geuna S, Dahlin LB, Meyer C, Stenberg L, Freier T, Heimann C, Barwig C, Pinto LF, Raimondo S, Gambarotta G, Samy SR, Sousa N, Salgado AJ, Ratzka A, Wrobel S, Grothe C. Chitosan tubes of varying degrees of acetylation for bridging peripheral nerve defects. Biomaterials, 34 (38): 9886-9904 (2013).

7. Rumpel R, Alam M, Klein A, Özer M, Wesemann M, Jin X, Krauss JK, Schwabe K, Ratzka A, Grothe C. Neuronal firing activity and gene expression changes in the subthalamic nucleus after transplantation of dopamine neurons in hemiparkinsonian rats. Neurobiol Dis, 59: 230-243 (2013).

8. Hohmann M, Rumpel R, Fischer M, Donert M, Ratzka A, Klein A, Wesemann M, Effenberg A, Fahlke C, Grothe C. Electrophysiological characterization of eGFP-labeled intrastriatal dopamine grafts. Cell Transplant, 24(8): 1451-67 (2015).

9. Meyer C, Stenberg L, Gonzalez-Perez F, Wrobel S, Ronchi G, Udina E, Suganuma S, Geuna S, Navarro X, Dahlin LB, Grothe C, Haastert-Talini K. Chitosan-film enhanced chitosan nerve guides for long-distance regeneration of peripheral nerves. Biomaterials, 76: 33-51 (2016).

10. Rumpel R, Alam M, Schwarz LM, Ratzka A, Jin X, Krauss JK, Grothe C, Schwabe K. Neuronal firing activity in the basal ganglia after striatal transplantation of dopamine neurons in hemiparkinsonian rats. Neuroscience, Sep 30;360:197-209 (2017).
Prof. Dr. Claudia Grothe
Institute of Neuroanatomy and Cell Biology - OE 4140 –
Hannover Medical School
Carl-Neuberg-Str. 1
30625 Hannover, Germany
Tel. +49 / (0)511 / 532-2896; mobile: 01725402067
Fax. +49 / (0)511 / 532-2880
Email: Grothe.Claudia@mh-hannover.de
Medizinische Hochschule Hannover : Institut für Neuroanatomie und Zellbiologie (mhh.de)