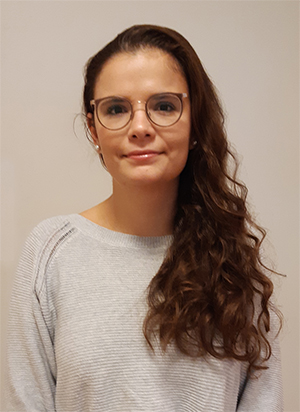 Curriculum Vitae
2010-2013
Bachelor of Science in Biology, University of Duisburg-Essen
2013-2015
Master of Science in Chemical Biology, TU Braunschweig
2015-2018
Doctorate, Zoological Institute/Cell Physiology, TU Braunschweig
Title: Single cell imaging of C-to-U RNA editing
Since Jan. 2019
Postdoctoral Scientist, Institute of Neuroanatomy and Cell Biology, Hannover Medical School
Publications
Kankowski, S., Grothe, C. and Haastert‐Talini, K. (2021), Neuropathic pain: spotlighting anatomy, experimental models, mechanisms, and therapeutic aspects. European Journal of Neuroscience. doi:10.1111/ejn.15266.
Knoll A.; Kankowski S.; Schöllkopf S.; Meier J.; Seitz O. (2019) Chemo-biological mRNA Imaging with Single Nucleotide Specificity. Chemical Communications, doi:10.1039/C9CC06989E (2019).
Fang G.; Chamiolo J.; Kankowski S.; Hövelmann F.; Friedrich D.; Löwer A; Meier J. C.; Seitz O. (2018): A bright FIT-PNA hybridization probe for the hybridization state specific analysis of a C → U RNA edit via FRET in a binary system. Chemical Communications 11, S. 25. DOI: 10.1039/C8SC00457A
Kankowski S.; Förstera B.; Winkelmann A.; Knauff P.; Wanker E. E.; You X. A.; Semtner M.; Hetsch F.; Meier J. C. (2017): A Novel RNA Editing Sensor Tool and a Specific Agonist Deter-mine Neuronal Protein Expression of RNA-Edited Glycine Receptors and Identify a Genomic APOBEC1 Dimorphism as a New Genetic Risk Factor of Epilepsy. Frontiers in molecular neuroscience 10, S. 439. DOI: 10.3389/fnmol.2017.00439.
Meier, J.C., Kankowski, S., Krestel, H. & Hetsch, F. (2016) RNA Editing-Systemic Relevance and Clue to Disease Mechanisms? Frontiers in molecular neuroscience 9, 124.
Vanicek, S.; Kopacka, H.; Wurst, K.; Vergeiner, S.; Kankowski, S.; Schur, J.; Bildstein, B.; Ott, I. (2016): Cobaltoceniumethynyl gold(I) as an unusual heterodinuclear bioorganometallic fragment to study the biological properties of alkynyl gold complexes. Dalton transactions 45 (4), S. 1345–1348. DOI: 10.1039/c5dt04796j.
Contact
Dr. rer. nat. Svenja Kankowski
Institute of Neuroanatomy and Cell Biology, OE 4140
Building I3, Level H, Room 3110
Hannover Medical School (MHH)
Carl-Neuberg-Str. 1, 30625 Hannover, Deutschland
Tel.: +49 511 532-9849
Mail: kankowski.svenja@mh-hannover.de