Welcome to BIOHYBRID
BIOHYBRID (Biohybrid templates for peripheral nerve regeneration) is a medium scale integrated project supported by the European Commission under the Seventh Framework Programm FP7 running from October 2011 until September 2015.
About BIOHYBRID
The overall aim of the BIOHYBRID consortium is the preclinical development of an innovative artificial biohybrid nerve device for the regenerative treatment of traumatic injuries of peripheral nerves.
The consortium consists of three dynamic and reputable Small and Medium Enterprises (SMEs) as well as seven academic partners that are recognised leaders in the disciplines of neuroanatomy, neuronal regeneration, neurosurgery and innovative biomaterial research.
The results of the multidisciplinary research will feed into the establishment of artificial biohybrid devices as stand alone alternatives to accepted standard procedures and tools. Furthermore, standardised application guidelines and evaluation parameters will be set up to enable continuous progress and evaluation of the outcome of clinical application.
Project Overview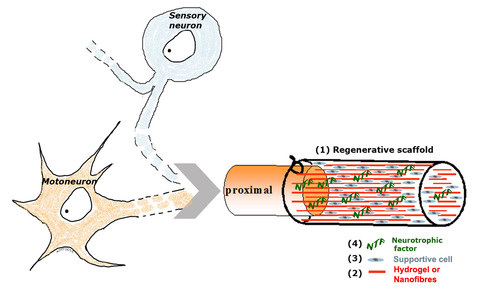 With the goal of repairing damaged nerve trunks, the BIOHYBRID consortium will engage in the preclinical development of an innovative artificial biohybrid nerve device for the regenerative treatment of traumatic injuries of peripheral nerves.
Based on the extensive basic and clinical experience within this consortium the artificial nerve device will be developed together with standardised application and evaluation parameters. A key objective of this study is to generate a protocol that serves as a template for future clinical trials in the regenerative therapy of damaged peripheral nerves.
Traumatic injuries of peripheral nerves are among the major causes for morbidity and disability in Europe and have a considerably high social impact. It has been estimated that the incidence of peripheral nerve injuries derived from trauma is about 300,000 cases per year. Moreover, nerve injuries are a contributing factor for traumatic limb amputations, with an incidence of 2 out of 100,000 persons per year for hand amputations. Therefore, the repair and regeneration of peripheral nerve injuries represents a major field where clinical application of innovative therapies in regenerative medicine is sought.
Peripheral nerve fibers are able to regenerate leading to functional recovery provided that an appropriate milieu and guidance structure is available. However, the clinical outcome of neural repair after extended substance loss following nerve injury is often unsatisfactory and therefore innovative strategies to improve the outcome after neural damage are in demand.
The BIOHYBRID project with its consortium partners combines excellent expertise to successfully reach the objectives and therefore stands on the front line of regenerative medicine approaches. Another key objective of the BIOHYBRID project is the development of a regenerative therapy using an innovative biohybrid artificial nerve device.
Development of innovative biohybrid artificial nerve
Production of a bio-inspired and bio-active nerve graft device which, apart from passively substituting the damaged nerve tissue, also activates the biological processes inside the receiving tissue (bio-activation).
Activities
The work programme rests on an integrated experimental approach bringing together the main aspects of regenerative medicine:
a) Reconstructive microsurgery
b) Regenerative scaffolds
c) Transplantation
Furthermore, the research and experimental activities are supplemented by staff training and exchange and tasks dedicated to possibilities for scaling up and clinical application, the coordination of dissemination activities and exploitation management which includes issues of intellectual property rights.
The project proccesses are accompanied by the integrated management activities including financial administration and communication management. The project activities are summarised in a gantt-chart that serves as a controlling tool for the timely delivery of milestones, manuscripts and reports and the organisation of meetings and events.