Research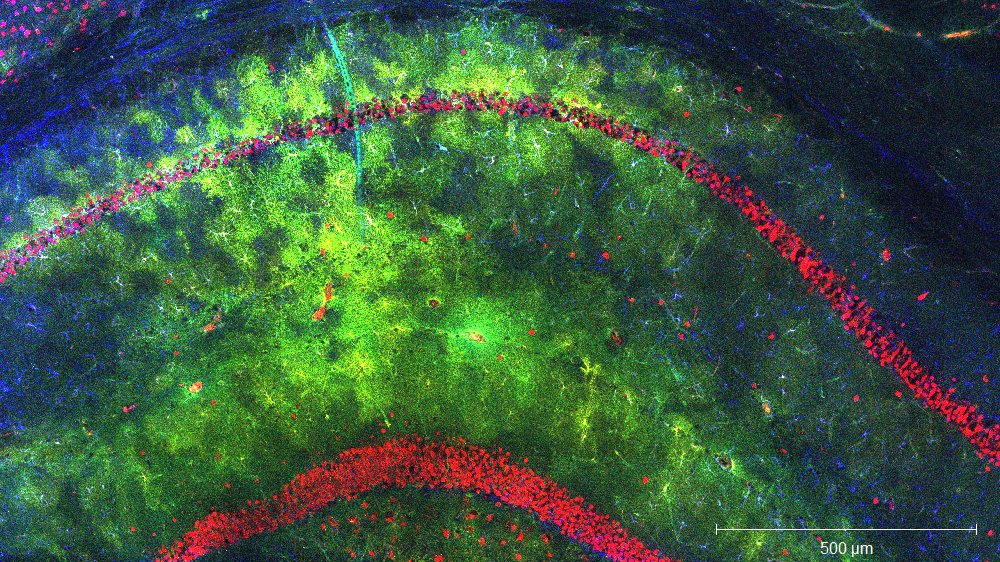 investigation of subcellular GCPR signaling in cell culture, organotypic environment and in living animals
Characterization of specific G-proteins and downstream effectors involved in GPCR-mediated signal, cross-talk and feedback mechanisms
Post-translational modifications of the signaling proteins and their role in the regulation of the signal transduction
In our experiments we apply all current methods of molecular and cell biology as well as protein biochemistry and receptor pharmacology. In addition, we possess broad experiences in electrophysiology (patch-clamp), time-lapse microscopy and fluorescence microscopy. I our lab we also established the modern biophysical approaches for molecular imaging including, Förster resonance energy transfer (FRET) in cuvette and at single-cell level, fluorescence life-time measurements (FLIM) as well as bioluminescence resonance energy transfer (BRET). To analyse the expression level of different proteins we routinely use the quantitative RT-PCR analysis (TaqMan and SYBR Green) as well as single-cell RT-PCR techniques.
Our Projects
Astrocytes are an important component of the brain network and crucial for brain function. We are particularly interested in their intra- and intercellular mechanisms regulating Ca2+-fluctuations in astrocytes, and are currently using biophysically-based computational concepts to decipher their complex activity patterns, in combination with advanced morphology investigations by multiphoton microscopy. Our state-of-the-art microscopes allows functional studies in primary culture, organotypic and acute slices as well as in living animals.
PI:
Dr. F.E. Müller, Dr. A. Zeug
Recent publications:
Induced Remodelling of Astrocytes In Vitro and In Vivo by Manipulation of Astrocytic RhoA Activity. Cells 2023
Elucidating regulators of astrocytic Ca2+ signaling via multi-threshold event detection (MTED). GLIA 2021
Serotonin receptor 4 regulates hippocampal astrocyte morphology and function. GLIA 2020
Local Resting Ca2+ Controls the Scale of Astroglial Ca2+ Signals. Cell Rep. 2020
Astroglial Glutamate Signaling and Uptake in the Hippocampus. Front. Mol. Neurosci. 2018
Control of astrocyte morphology by Rho GTPases. Brain Research Bulletin 2018

Palmitoylation is the post-translational covalent attachment of palmitate to proteins at cysteine residues via thioester bonds. This protein modification is reversible and can play the key role in many physiological and pathological processes. The focus of our investigations is to understand the role of palmitoylation in the central nervous system. We found that palmitoylation is involved in the regulation of the serotonin system and demonstrated a reduced palmitoylation status of serotonin receptor 1A within the prefrontal cortex in post-mortem samples from depressive patients who died by suicide. Also, we focus on the role of palmitoyltion for small GTPases such as Cdc42 and extracellular matrix proteins like CD44.
The neurotransmitter serotonin modulates a multitude of cellular singals that influence morphology and activity of neurons. This is essential for physiological processes, like mood, sleep, thermoregulation, learning and memory, but can impact also the development of neurological disorders such as depression, axiety, Alzheimer's disease or schizophrenia. The multiplicity of the serotonin functions is mediated by seven subtypes of serotonin receptors.
One of the our research focuses is on the role of the serotonin receptor 7 (5-HT7R) in health and disease. Currently, we study how receptor-mediated signalling influences neurodegeneration induced by accumulation of misfolded proteins. In particular, we focus on the pathological aggregation of the microtuble-associated protein Tau as well as the RNA-binding protein TDP-43, and search for therapeutical strategies to treat neurodegenerative diseases like Alzheimer's Disease, Frontotemporal Dementia and Amyotrophic lateral sclerosis.
Furthermore, we are interested in the interplay of the 5-HT7R with the extracellular matrix which is an important component of the neuronal network. Specifically, we investigate how receptor-mediated remodeling of the extracellular matrix contributes to cellular reshaping and thus influences complex processes including learning and memory.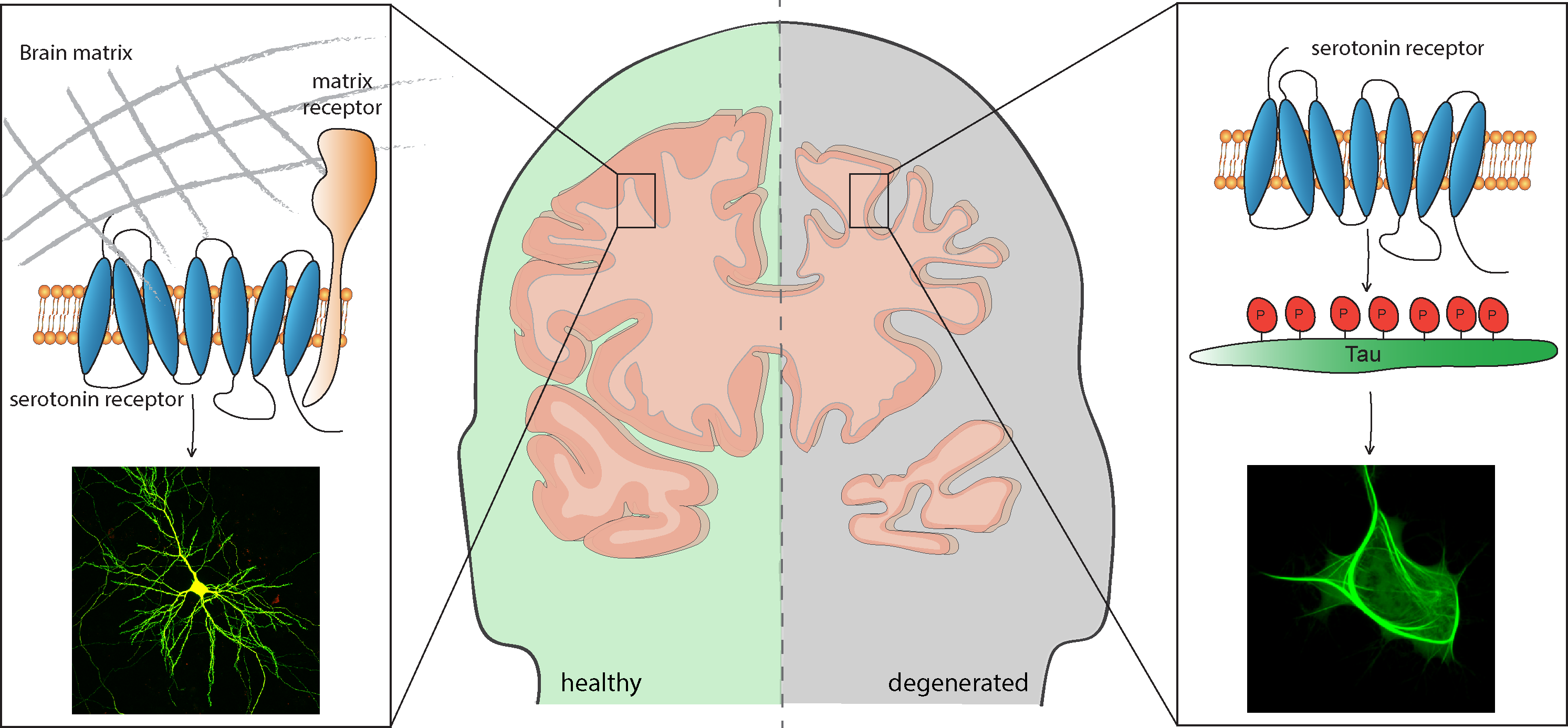 PI:
Dr. J. Labus
Recent publications:
https://doi.org/10.1002/alz.13090
https://doi.org/10.1016/j.pneurobio.2020.101900
https://doi.org/10.1016/j.celrep.2017.05.023
In times of an aging society and thus increased age-associated diseases, healthy aging is of huge interest. We try to understand why and how exactly neurons age in culture and in organisms. Currently, we are deciphering molecular pathways linked to metabolic signalling (mTOR), calcium homeostasis and autophagy and how these cascades change with age. Furthermore, we try to slow down ageing process by substances such as spermidine and analyse in detail how these chemicals interfere/prevent aging.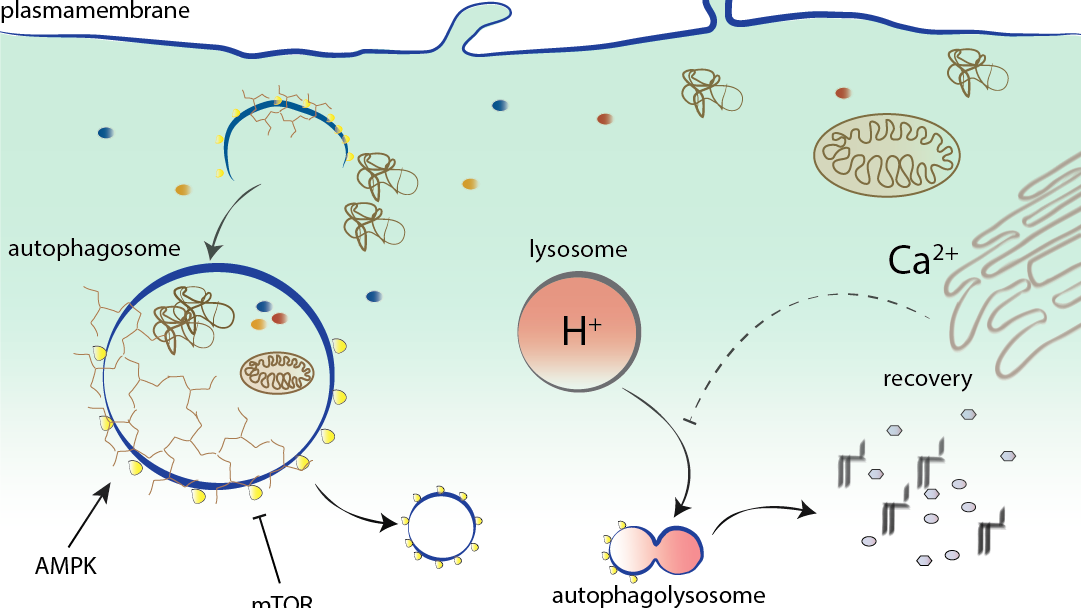 Myocardial infarction (MI) is among the most frequent health burdens in western societies and a worldwide leading cause of morbidity and mortality. The major inflammatory reaction following the ischemic insult is a key reason for high mortality rates, and the fragile balance between pro-and anti-inflammatory responses is a crucial determinant of disease outcome. In collaboration with the Department of Cardiology and Angiology, we are investigating the role of serotonin and its receptors in regulation of inflammatory responses, including post-MI myocardial remodelling.
PI:
Dr. F.E. Müller
Functional imaging requires a profound understanding of the microscope technical details and the measurement device. We develop calibration tools, elaborate acquisition protocols and advance automated analysis tools, custom tailored to the biomedical application to extract the maximum information from the data content. The strategies and tools developed here are the basis of many other projects of the group and collaborations.
Further details...
PI:
Dr. A. Zeug