Quality Management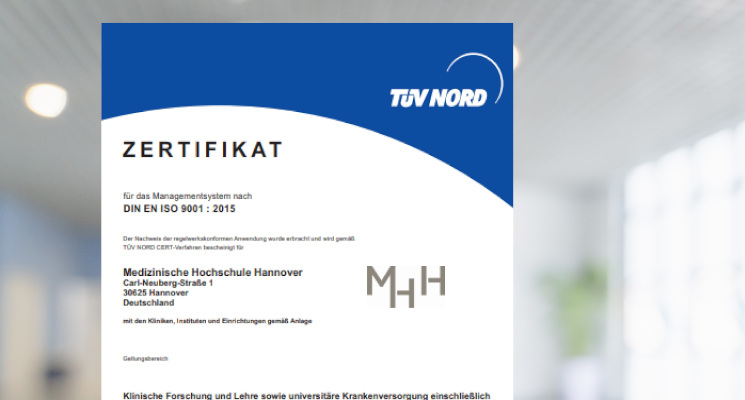 DIN EN ISO 9001:2015 Certification
Our clinic is certified according to DIN EN ISO 9001:2015 by TÜV NORD CERT GmbH. This certification sets highest demands in the processes of the clinic and places a strong focus on the quality of health care and on the cooperation with external and internal partners. We are continuously expanding our quality management system in order to meet the requirements of our patients at a high level. Regular internal and external audits ensure that these standards are met.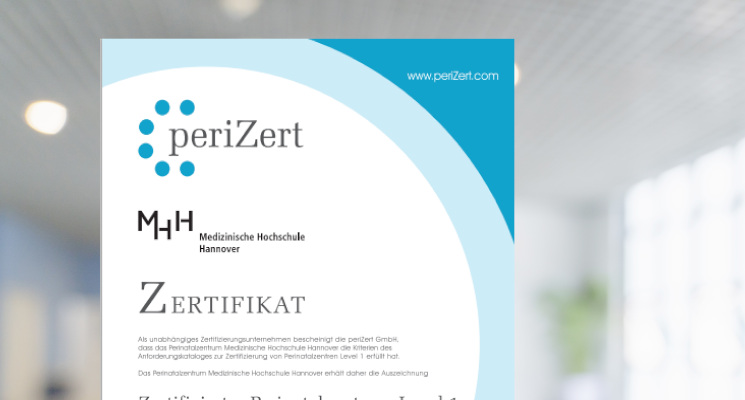 Certification as Perinatal Center Level 1
The Perinatal Center of the MHH was successfully certified according to Perizert® for the first time in 2016. This makes it the ninth of more than 150 perinatal centers in Germany to undergo this qualification process. In 2019, the Perizert® certification was successfully completed again.
The certification as a Perinatal Center is the only specialist certification that is jointly supported by professional associations such as the German Society of Gynecology and Obstetrics (DGGG), the German Society of Perinatal Medicine (DGPM) and the German Society of Prenatal and Obstetrics Medicine (DGPGM). Parents thus receive proof of structured treatment procedures with a high degree of specialization in preterm and risk births, especially at the interface between obstetrics and neonatal intensive care.
Peer Review of the Medical Association of Lower Saxony
The Perinatal Center of the MHH also participated in a peer review process of the Medical Association in 2017 as part of a pilot project.
We would like to improve continuously. Your praise and criticism helps us to do so! Please write us with your suggestions to hansen.office@mh-hannover.de.