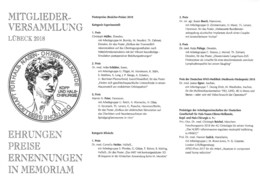 Our staff won two poster prizes at the German ENT Congress 2018:
Second place in the "Clinical" category went to Dr. rer.agr. Susan Busch from our middle ear team for the poster "Improved round-trunk coupling of acoustic implants using a coupler with controllable preload".
Our researcher Marvin Peter took third prize in the poster category "Experimental" for "Influence of electrical stimulation on survival and neurite growth of spiral ganglion neurons in vitro".
Congratulations!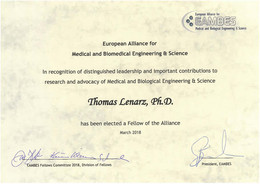 Our Clinic Director Prof. Lenarz has been appointed as a new Fellow by the European Alliance of Medical and Biological Engineering and Science (EAMBES). The society, based in Belgium, is the European umbrella organisation for biomedical engineering and lists more than 60 European member professional societies, research organisations and universities.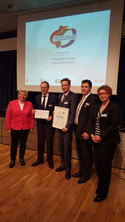 For the remote fitting of cochlear implants "Remote Care", we as the ENT clinic and German Hearing Centre Hannover of the MHH won the 6th Lower Saxony Health Award in 2016.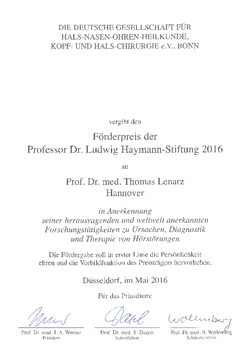 In 2016, Professor Lenarz received the sponsorship award of the Professor Dr Ludwig Haymann Foundation in recognition of his outstanding and globally recognised research activities on the causes, diagnostics and therapy of hearing disorders.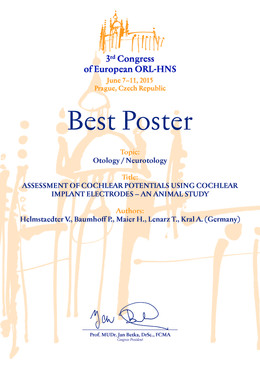 Our colleagues Dr Helmstädter, Dr Baumhoff, Prof Maier, Prof Lenarz and Prof Kral took first place for the Best Poster at the 3rd European ENT Congress in Prague in 2015.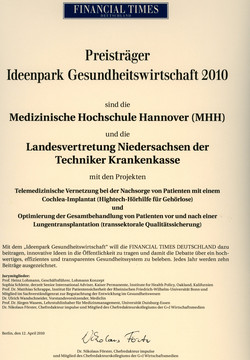 In 2010, together with Techniker Krankenkasse, we won an award at the Financial Times' Health Industry Ideas Park. We were awarded for our telemedical aftercare Remote Care for cochlear implant users.