Healthcare Integrated Biobanking - HIB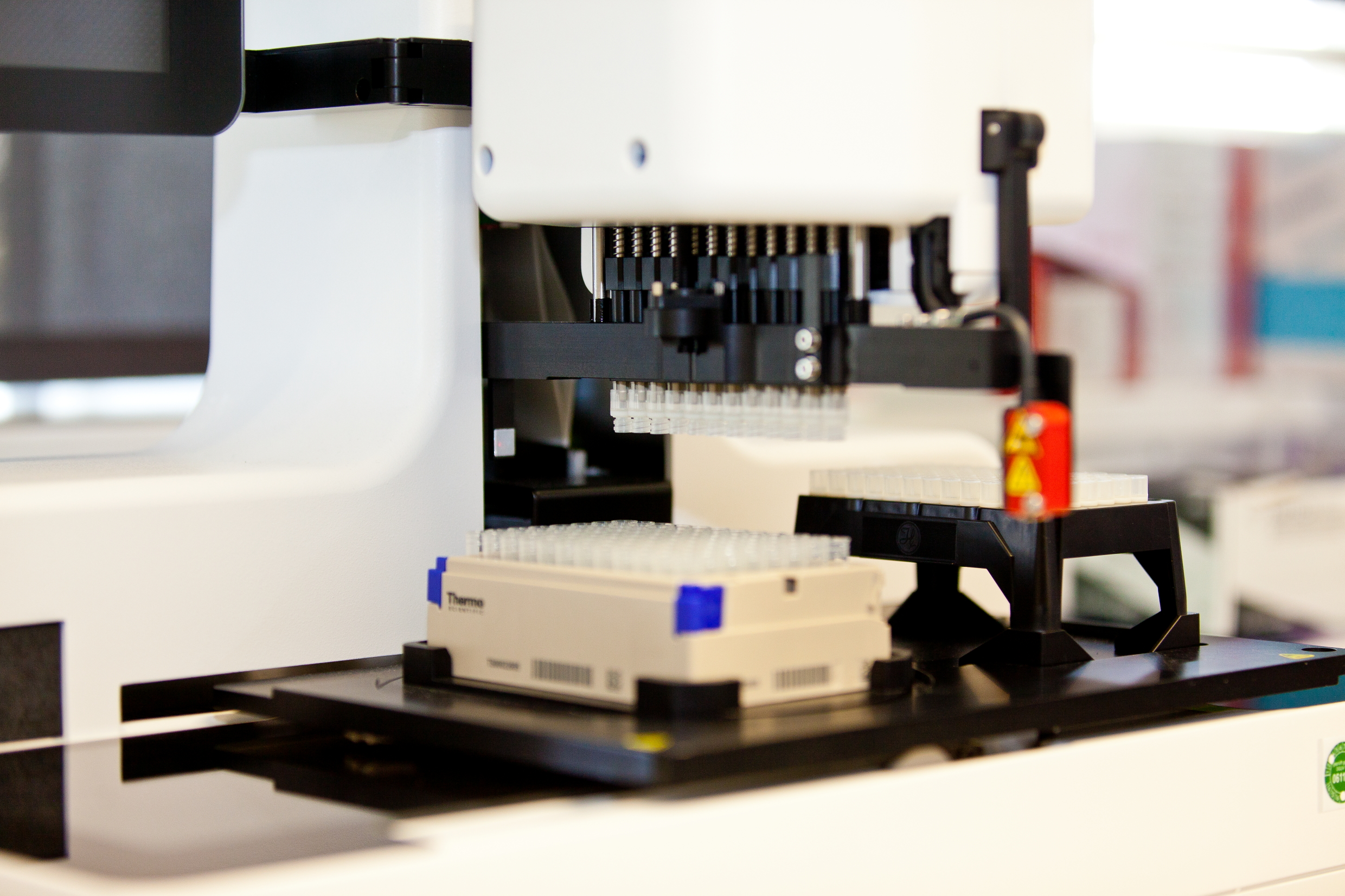 MHH- Healthcare Integrated Biobanking
MHH-HIB
The "MHH- Healthcare Integrated Biobanking" (MHH-HIB) is a new project of the Hannover Unified Biobank (HUB), the central biobank of the MHH. The goal of MHH-HIB is the establishment of a broadly available, high quality biomaterial collection in close cooperation with the clinics of the MHH.
The collection is supposed to ensure the future access of all MHH researchers to high quality biomaterials of well characterized patient cohorts. Additionally, MHH-HIB should be available for cooperative research projects of MHH researchers and external partners. Participating clinics will gain exclusive and free of charge access to a portion of aliquots of their collected samples. The remaining aliquots will become part of the MHH-HIB collection and will be available to cooperative projects.
Requests for access to the MHH-HIB collection are evaluated by an MHH access committee. This access committee protects internal MHH research interests and denies the release of samples in the case of conflicts of interest.
Because the HUB is only able to prepare and store a limited number of samples per year, not all MHH patients can be included in the project. Therefore, it is important to establish a selection procedure that interested clinics can apply to.
Psychiatry Tourette
This project is part of the MHH-HIB collection
Patient collective:
Inclusion criteria:

patients with chronical primäry Tic disorder (chronical motoric Tic disorder, chronical vocal Tic disorder and Tourette syndrom)
each age
male and female

exclusion criteria:

secundary Tic disorder
vorübergehende Tic disorder
Pneumology Asthma
This project is part of the MHH-HIB collection
In Cooperation with the clinic of Pneumology.
Patient collective:
Patients with severe bronchial asthma of different origins (allergic or intrinsic).
Inclusion criteria:

Eosinophilie (>300 Eosniophile / ml Blut)
Therapieoption anti IL-5 Antibody dose (exhausted conventional therapy (LABA, LAMA, high dosis ICS +/- oral steroid therapy)).
It follows a longitudinal Sampling before and after anti IL-5 antibody therapy.
Cardiologie Cardiomyopathie
This project is part of the MHH-HIB collection.
The blood samples are obtained as part of a large-scale cardiomyopathy registry, which is currently being established at the MHH.

The patients should be observed over the years and bio samples should be obtained repeatedly.

Patient collektive:
Inclusion criteria

Dilatative Kardiomyopathie
Noncompaction Kardiomyopathie
Inflammatorische Kardiomyopathien (Myokarditis)
Metabolische Kardiomyopathien
Sekundäre Kardiomyopathien (toxische, infiltrative, Speichererkrankungen)
Restriktive Kardiomypathien

Pediatric Metabolic Diseases
This project is part of the MHH-HIB collection.
Patient collektive:
Patients with rare, congenital, genetically determined metabolic diseases (especially energy metabolism, amino acid metabolism, lysosomal storage diseases, glycogenoses, patients on a ketogenic diet).
Nuklear medicin prostata carcinom
This project is part of the MHH-HIB collection.
Patient collektive:
Oncological patients with advanced, castration-refractory prostate carcinoma who are being given new molecular-directed radionuclide therapy (PSMA ligand therapy) (which has already been clinically used at the MHH), which is directed against the prostate-specific membrane antigen (PSMA). These patients are treated every 8 weeks in a standardized manner and, at defined time intervals, extensively characterized by laboratory chemistry, imaging and clinically (every 8-16 weeks).

Blood samples are taken before therapy and in total at least three times after each therapy cycle (each after 8 weeks).
Gastroenterology autoimmune hepatitis
This project is part of the MHH-HIB collection.
Samples from patients with autoimmune hepatitis are collected.
The project is also part of the KFO 250.
Cardiology heart failure
This project is part of the MHH-HIB collection.

Patient collective:
Patients with symptomatic heart failure (NYHA II-IV) who are presenting to the cardiology clinic and who are included in the cardiologist use case as part of the HiGHmed consortium project (BMBF).

A precisely defined data set is collected for all patients (clinical data, laboratory data, parameters of technical examinations such as ECG, exercise ECG, echocardiography, hemodynamic data). These data are then analyzed in cross-location medical data integration centers (MeDiC) using medical information technology.

The analyzes carried out in the MeDiC are intended to identify patient collectives with heart failure who are at high risk of hospital admission due to worsening of heart failure.

After identification, these patients are then looked after specifically and the treatment is intensified if necessary (including heart failure nurse, telemedicine, patient app) in order to avoid future hospitalizations due to heart failure and to improve the patient's prognosis.

High-quality bio-samples are used for further scientific investigations in order to identify previously unknown disease mechanisms and to improve patient care.
Cardiology endocarditis
This project is part of the MHH-HIB collection.
Setup of a cardiology endocarditis registries
Since patients from all MHH clinics with suspected endocarditis usually go through the echocardiography laboratory of the Clinic for Cardiology for an echocardiographic diagnosis, patients for this register can be easily identified here. In this register, structured data sets of endocarditis patients (clinic, laboratory, microbiology etc.) are to be collected using the multimodal imaging (echocardiography, leukocyte scintigraphy, PET / CT, inflammation imaging with specific antibody-coupled tracers) by the Clinic for Cardiology & Angiology and Nuclear Medicine become.
Pediatric cardiology
in Planung
Strahlentherapie
Das Projekt ist Teil der MHH-HIB Sammlung.
Patientenkollektiv: Patienten bei denen bei der Strahlentherapie eines Tumorleidens früh (Anfang der Bestrahlungsserie, niedrige Dosis) Nebenwirkungen auftreten.

Einschlusskriterien:
Definitive Strahlentherapie eines Tumorleidens
Alter ≥ 18, Einwilligungsfähigkeit
vollständige Anamnese inkls. Medikation
früh ausgeprägte radiogene Nebenwirkungen
Ausschlusskriterien:
palliative Strahlentherapie, nicht kurativ
monogene Erbkrankheiten
geplante Strahlendosis nicht erreicht
Nephrology
Collection of plasma and buffy coat of patients with fibromuscular dysplasia.