3rd International DZL Symposium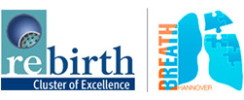 The international conference "Lung Regeneration and Beyond – BREATH meets REBIRTH" is organized as a joint initiative between the Hannover site of the German Center for Lung Research BREATH and the REBIRTH Cluster of Excellence. It will take place from May 8-10, 2014, in the "Schloss Herrenhausen" in Hannover.
The topics include regeneration, transplantation, stem cell research, artificial organs and tissue engineering, imaging, ethics in regenerative science, and patients' view on regenerative science.
Please find further information here.