New building Hans Borst-Center
Excerpt from the MHH press release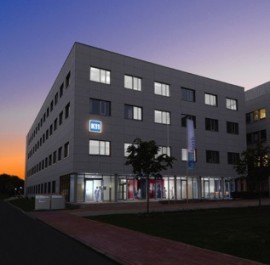 On 14th May 2008 the LEBAO as one of the central REBIRTH institutions moved into the Hans Borst-Center for Heart and Stem Cell Research, financed by the Braukmann-Wittenberg-Heart Foundation.
(ina/sc) At the first cut with the spade, the construction of a new research center for regenerative medicine began on the MHH campus on March 23rd, 2007. In this building, which is to be finished in summer 2008, those scientists and further partner institutes will be accommodated, who last year for the project REBIRTH ("From regenerative Biology to Reconstructive Therapy") received funding of nearly 40 million euros for the coming five years issued by the Excellence Initiative of the German Federal and State Governments. The new building, which costs more than 13 million euros, will carry the name Hans Borst-Center for Heart and Stem Cell Research, and was funded by the Braukmann-Wittenberg-Heart Foundation from Burgwedel.
It is named after Professor Dr. Hans Georg Borst, the former director of the MHH Department of Cardiac, Thoracic and Vascular Surgery. "Eleven years after my parting from the university, this denomination is a joy and an honour for me", said Professor Borst in his speech. "I understand the naming as an acknowledgment of my working as a founder of the surgical center of the MHH and my activity as a director of the THG surgery." Professor Borst is an MHH pioneer; he was appointed to the university as the first full professor for surgery in 1968, and therefore was responsible for the establishment, organization and function of the newly created faculty. Altogether, he was actively working for the MHH for 28 years. Coordinator and speaker of the Excellence Cluster REBIRTH is Professor Dr. Axel Haverich, present director of the MHH department of Cardiac, Thoracic, Transplantation and Vascular Surgery. "For the REBIRTH research, the center is of significant importance because only like this, research in the field of regenerative medicine can be accomplished in the true sense of an Excellence cluster", explained Professor Haverich. And he added: "The new building enables the cooperation of different disciplines under one roof towards one common goal and thereby facilitates the necessary interdisciplinary exchange."