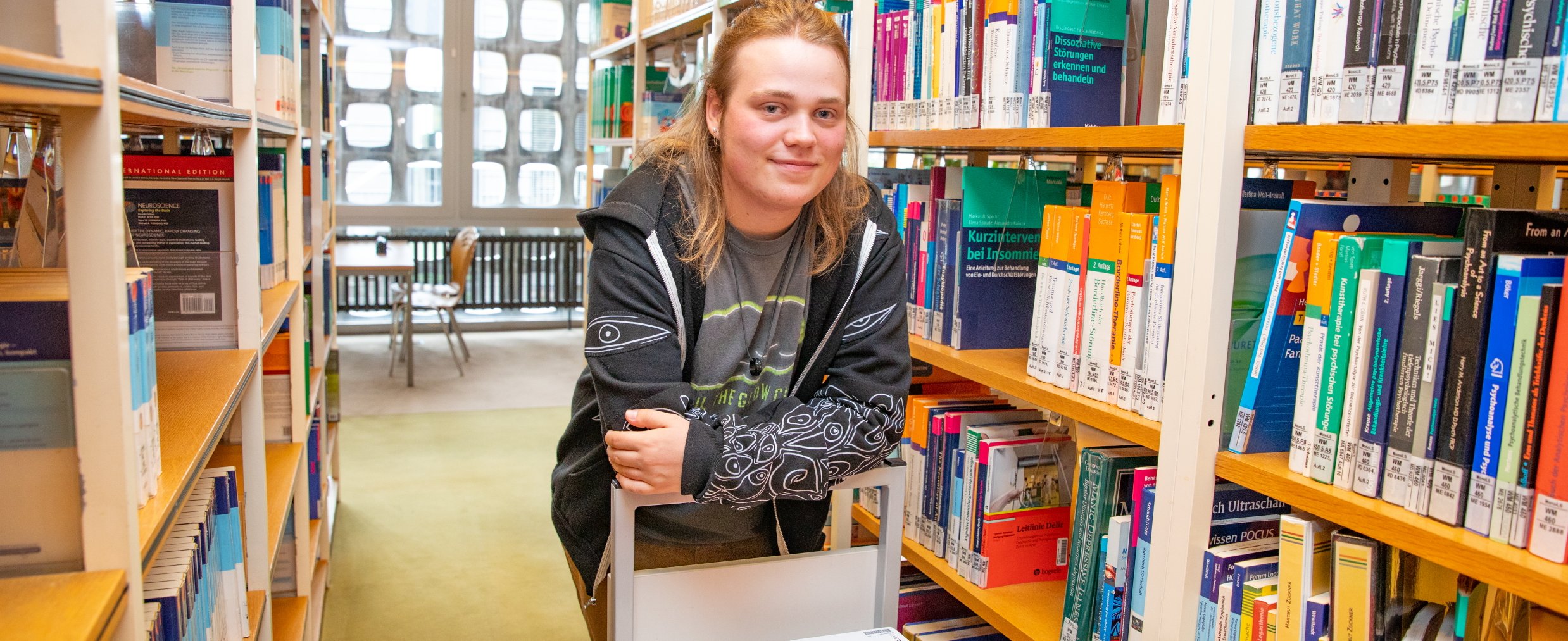 Working closely with researchers and students
Library trainee Paul Vinke becomes a specialist in media and information services.
Zum Ausbildungsporträt
Apprenticeship as a specialist for media and information services – specialising in libraries
Media and information services specialist (FaMI) has been a recognised training occupation since 1998. Training is possible in five different specialisations. Archive, library, information and documentation, medical documentation and picture agency. At the MHH library, you can complete your training in the library specialisation.
During your training, you will work in the various teams and learn about the tasks and services of the library, which we offer as the university's literature and information centre for our wide range of users. You will train the skills to acquire, index and provide various media, to organise the media collection and to convey information.
The FaMI training programme is part of the dual system. The practical part of the training takes place in our library and the theoretical part is taught at the Multi-Media-BBS (Only in German) in Hanover. Vocational school lessons usually take place in two-week blocks.
The practical part of the training takes place in cooperation with the library of the Hanover University of Music, Drama and Media (HMTMH). There are regular training periods of 3-4 weeks at the HMTMH library locations.
• Ordering and inventorying publications
• Creating title records for the library catalogue
• Maintenance of the digital and print media inventory
• Lending processes at the lending desk and interlibrary loan
• Searching databases
• Informing and advising users
School requirements
Secondary school leaving certificate with good grades in German and English
• Service orientation and ability to work in a team
• Interest in print and electronic media
• Enjoying contact with library users
• Sense of order
• IT affinity
Duration of training
The apprenticeship lasts three years.
Apprenticeship pay
Remuneration is based on the collective agreement for trainees of the federal states in Training occupations under the Vocational Training Act (TVA-L BBiG).
Training places
Two training positions are regularly offered. You can find current offers in the MHH career portal. The application period usually ends in the summer/autumn of the previous year before the start of training.
Internships
During the training there will be at least two supplementary internships, which will take place in an archive and in a public library.
Training
Bibliothek der MHH – OE 8900
Céline Schmelzer +49 511 532-3339
Nathalie Suppé +49 511 532-3347