Felix Osten
Doctoral student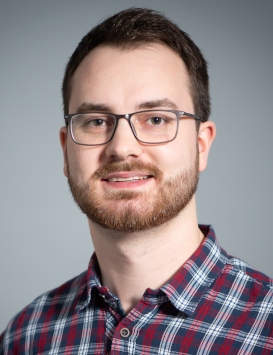 Contact:
Phone: +49 511 532-2759 (office) -3654 (lab)
Fax: +49 511 532-4296
Address: Carl-Neuberg-Straße 1, 30625 Hannover, Germany
Building 03, level 03, room 1320
ResearchGate: Researchgate
Career:
Since 08/2018 doctoral student at the Institute of Molecular and Cell Physiology (MHH)
2015-2017 M. Sc. Animal Biology and Biomedical Sciences at the University of Veterinary Medicine Hannover
2011-2015 B. Sc. Biology at the University of Göttingen
Current Research Focus:
The project of the thesis focuses on the maturation of stem cell-derived cardiomyocytes, as characterized by the expression of different sarcomeric proteins/isoforms (e.g. myosin heavy/light chain, cardiac troponin I) and other markers, and the underlying signalling pathways.
Expertise:
Cell culture, fluorescence microscopy & immunofluorescence staining, SDS-PAGE & Western blotting, measurement of twitch contractions and Ca2+ transients of single cardiomyocytes
Teaching practical courses of physiology for human/dental medicine students (current topic: Muscle 2)
Publication in Journals:
2019
Continuous WNT Control Enables Advanced hPSC Cardiac Processing and Prognostic Surface Marker Identification in Chemically Defined Suspension Culture. Halloin C, Schwanke K, Löbel W, Franke A, Szepes M, Biswanath S, Wunderlich S, Merkert S, Weber N, Osten F, de la Roche J, Polten F, Wollert K, Kraft T, Fischer M Martin U, Gruh I, Kempf H, Zweigerdt R. Stem Cell Reports. 2019 Aug 13; 13(2):366-379. doi: 10.1016/j.stemcr.2019.06.004. Epub 2019 Jul 25
2018
Mechanism of drug extrusion by brain endothelial cells via lysosomal drug trapping and disposal by neutrophils. Noack A, Gericke B, von Köckritz-Blickwede M, Menze A, Noack S, Gerhauser I, Osten F, Naim HY, Löscher W. Proc Natl Acad Sci U.S.A.; 2018 Oct 08; 115 (41) E9590-E9599. doi: 10.1073/pnas.1719642115. Epub 2018 Sep 25