Tianbang Wang
Dr. rer. nat.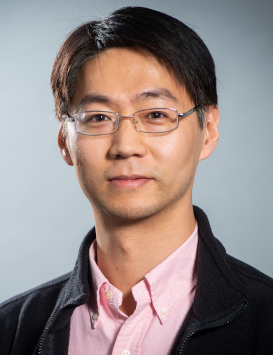 Contact
Tel: +49 511 532 -2754 (office), -3654 (lab)
Fax: +49 511 532-161215
address: 30625 Hannover, Carl-Neuberg-Str.1, Germany
Building J03, level 03, room 1330
Career
since 07.2018 Postdoc im Institut für Molekular- und Zellphysiologie an der Medizinischen Hochschule Hannover (MHH)
10.2013 to 02.2018 Promotion im Institut für Molekular- und Zellphysiologie an der Medizinischen Hochschule Hannover (MHH)
Current Research Focus
Characterizing the mechanical and kinetic properties of β-cardiac and skeletal muscle myosin II
In vitro studies involving modulatory roles of sub-components of motor proteins
Single molecule analysis of mutant myosin motors implicated in human hypertrophic cardiomyopathy using optical trap and TIRF microscopy
Expertise
Optical trapping, TIRF Mikroskopie, Rekombinantes Protein mittels gentechnischer Methoden, Proteinherstellung und – aufreinigung.
Matlab und Labview
Publication and Abstructs
2022
Myosin essential light chain 1sa decelerates actin and thin filament gliding on β-myosin molecules, Jennifer Osten, Maral Mohebbi, Petra Uta, Faramarz Matinmehr, Tianbang Wang, Theresia Kraft, Mamta Amrute-Nayak and Tim Scholz, J Gen Physiol . 2022 Oct 3;154(10):e202213149. doi: 10.1085/jgp.202213149. Epub 2022 Sep 2, PubMed

Cardiac ventricular myosin and slow skeletal myosin exhibit dissimilar chemomechanical properties despite bearing the same myosin heavy chain isoform, Tianbang Wang, Emrulla Spahiu, Jennifer Osten, Florentine Behrens, Fabius Grünhagen, Tim Scholz, Theresia Kraft, Arnab Nayak, Mamta Amrute-Nayak J Biol Chem . 2022 May 24;102070. doi: 10.1016/j.jbc.2022.102070. [Online ahead of print] PubMed
2020
Acto-Myosin Cross-Bridge Stiffness Depends on the Nucleotide State of Myosin II. Wang T, Brenner B, Nayak A, and Amrute-Nayak M. Nano Letters, 2020 Sep 15. doi: 10.1021/acs.nanolett.0c02960. [Online ahead of print] PubMed

2019
Mg²⁺ -free ATP regulates the processivity of native cytoplasmic dynein; Behrens VA, Walter WJ, Peters C, Wang T, Brenner B, Geeves MA, Scholz T, Steffen W.; FEBS Lett. 2019 Feb;593(3):296-307. doi: 10.1002/1873-3468.13319. Epub 2019 Jan 3.
2013
Difference in F-actin depolymerization induced by toxin B from the Clostridium difficile strain VPI 10463 and toxin B from the variant Clostridium difficile serotype F strain 1470; May M, Wang T, Müller M, Genth H. Toxins (Basel). 2013 Jan 11;5(1):106-19. doi: 10.3390/toxins5010106.
2012
Increased Cell-Matrix Adhesion upon Constitutive Activation of Rho Proteins by Cytotoxic Necrotizing Factors from E. Coli and Y. Pseudotuberculosis. May M, Kolbe T, Wang T, Schmidt G, Genth H. J Signal Transduct. 2012;2012:570183. doi: 10.1155/2012/570183. Epub 2012 Jul 5.