MHH opens outpatient clinic to treat dysregulated sexuality in adolescents / Ministry of Social Affairs funds project with 300,000 euros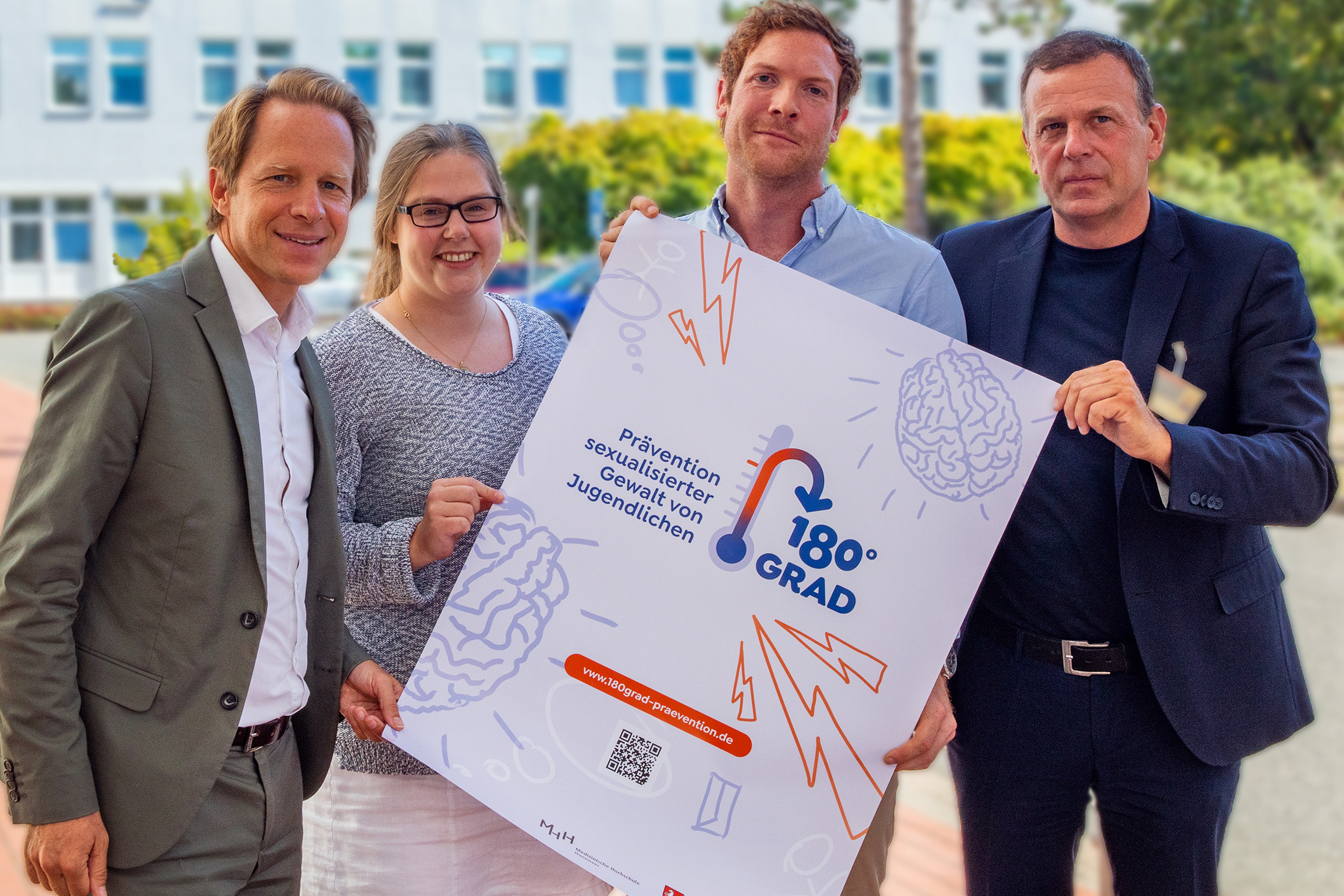 01.09.2022
Experts from the Department of Clinical Psychology and Sexual Medicine at the Hannover Medical School (MHH) have launched a new treatment and research project for the prevention and treatment of dysregulated sexuality in adolescents: "180Grad". The diagnostic and therapeutic offer is aimed at adolescents between the ages of 14 and 18 who fear they can no longer control their sexual impulses. This includes excessive consumption of (child) pornography as well as sexualised violent fantasies and assaults. The Lower Saxony Ministry of Social Affairs is funding the programme with 300,000 euros for the next three years. Under the motto "Crime prevention is the best victim protection", those affected receive anonymous and free therapeutic help under confidentiality.
MHH has many years of expertise in perpetrator prevention
The aim is to prevent sexual violence among young people in the long term. "180Grad" is the third MHH offer in the field of offender-oriented prevention, in addition to the already established projects "Kein Täter werden" and "I can change". "The MHH now has more than ten years of sound clinical experience and research expertise on the topic of sexualised violence," emphasises Professor Dr Tillmann Krüger, head of the Clinical Psychology and Sexual Medicine Department. "Our experience shows that many patients already suffer from the problem in adolescence. Behaviour learned early on is very likely to become entrenched, which is why an early offer of help for adolescents with sexualised violent fantasies or transgressive behaviour is extremely important."
Recognising and respecting boundaries
According to police crime statistics, one in ten suspects in cases of sexualised violence is under the age of 18. Young people are more at risk of experiencing sexualised violence by their peers than by adults. Young people also contribute to a significant extent to the dissemination of abuse images: Since 2018, the number of children and adolescents among crime suspects has increased more than tenfold, and they now account for 40 per cent of crime suspects. "We create a low-threshold offer for affected young people and provide assistance before anything happens. The young people learn to satisfy their sexual needs in a socially appropriate way without crossing the boundaries of others," adds Dr Jonas Kneer, senior psychologist at the clinic.
"Every single assault prevented is worth it," emphasises Theresa Engelmann from the forensic child protection outpatient clinic at the Institute of Forensic Medicine at MHH. "Prevention can prevent offences and thus protect children from sexual assault." The child protection outpatient clinic also focuses on early detection in cases of suspected maltreatment and abuse and makes its expert knowledge available to doctors in a low-threshold, quick and uncomplicated manner.
Adolescents who suffer from sexual impulses can now contact the Department of Clinical Psychology and Sexual Medicine at the MHH by phone at (0511) 532-6746 or by e-mail at kontakt@180grad-praevention.de .
SERVICE:
For further information, please contact Jonas Kneer, kneer.jonas@mh-hannover.de , telephone (0511) 532-8791 or www.180grad-praevention.de .