International expert committee led by Professor Arndt Vogel updates ESMO treatment guidelines for biliary tract cancer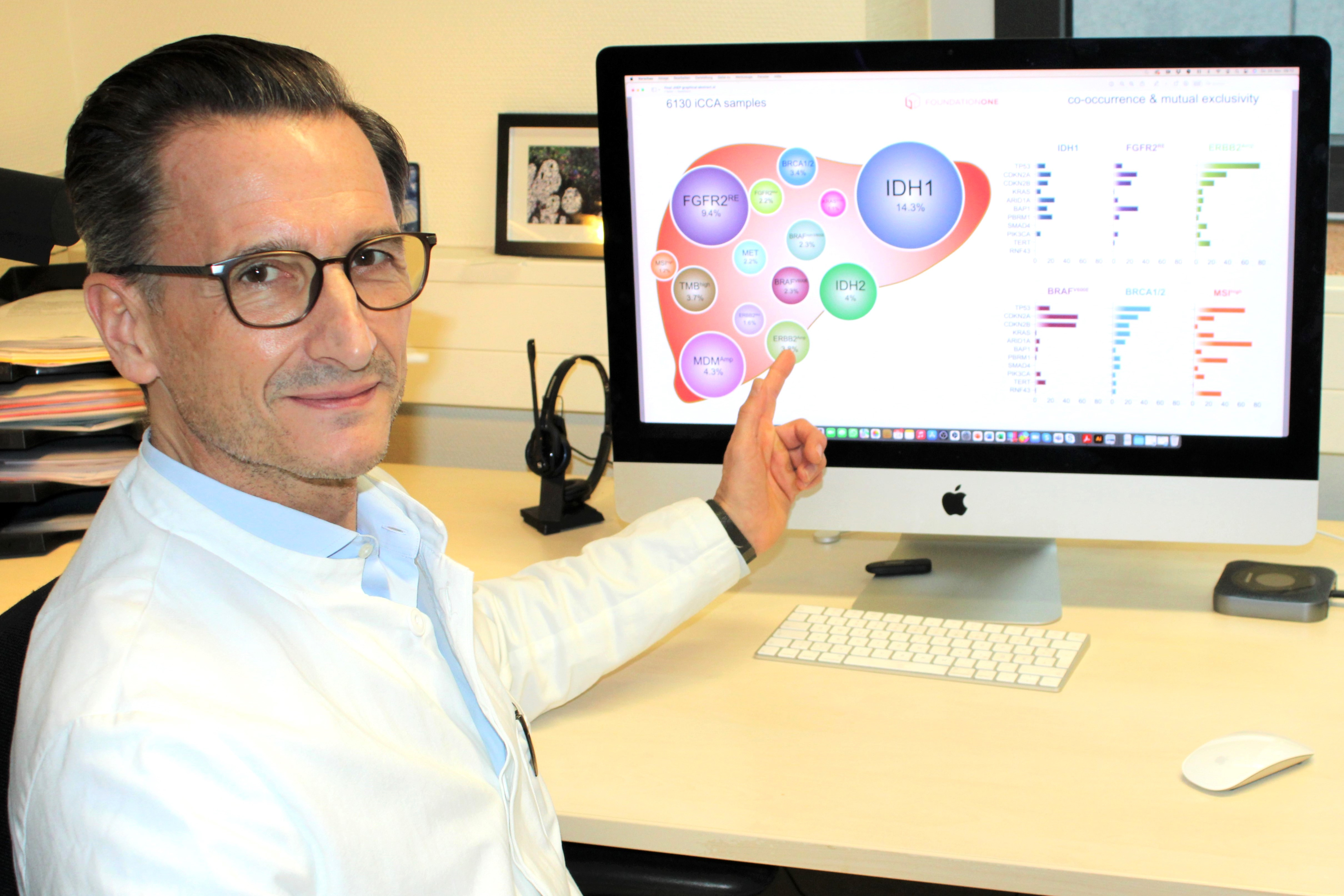 12.12.2022

Biliary tract cancers (BTC) are cancers of the bile ducts and gallbladder. BCTs are rare and account for less than one percent of malignant neoplasms in humans. Overall, BCT have a poor prognosis. Five years after diagnosis, only 10 to 20 percent of those affected are still alive. However, advances in medicine and research offer hope, which have led to the updating of the treatment guidelines of the European Society for Medical Oncology (ESMO). The guidelines have now been published in the journal Annals of Oncology.

Gastroenterologist Professor Dr. Arndt Vogel of Hannover Medical School (MHH) and member of the ESMO Steering Committee played a major role in the update: "From a systemic perspective, there are three significant changes that affect all levels of treatment. For the first time, we can give clear recommendations for adjuvant therapies. In first-line treatment, immunotherapy is gaining acceptance, and in second-line, there are now approved options for targeted therapies with the recommendation to do molecular testing very early."
Recommendations for adjuvant therapy for the first time
"At present, there is only a chance of cure with early-stage surgery, although unfortunately many patients are not operable when they are first diagnosed," explains Professor Vogel, who is a senior consultant in the Department of Gastroenterology, Hepatology and Endocrinology. Despite radical resection, there is also a high risk of cancer recurrence. In order to combat possible but not yet detectable tumour metastases in a supportive manner after an operation, supplementary treatment measures, so-called adjuvant therapy concepts, have increasingly been discussed, he said. "For a long time, there were no clear recommendations for adjuvant therapies after surgery for biliary tumours. Now, thanks to the BILCAP study, we have a recommendation for postoperative chemotherapy with the cell growth inhibiting drug capecitabine, which improves the overall survival of patients."
Immunotherapy in first-line treatment
"Furthermore, we can look at a positive study situation for immunotherapy in bile duct cancer," says Vogel. In immunotherapy, the body's own immune defence system is specifically activated to seek out and attack cancer cells. Different methods are used, such as immune checkpoint inhibitors. "The TOPAZ-1 trial shows improvements in overall survival here by adding the immune checkpoint inhibitor durvalumab to the two chemotherapy drugs cisplatin-gemcitabine. Thus, in advanced biliary carcinoma, cisplatin-gemcitabine-durvalumab should be considered for first-line treatment. In addition, immunotherapy with pembrolizumab is recommended in patients with proven microsatellite instability (MSI) based on the single-arm KEYNOTE-158 trial." Both therapies already have a recommendation from the European Medicines Agency (EMA).
Breakthrough in molecular sequencing
The search for genetic alterations using molecular sequencing has led to significant successes in the treatment of cancer in the past. "In the past five years, we have also made breakthroughs in this area for biliary tumours," Vogel points out. "Almost 40 per cent of patients with biliary tumours have genetic alterations that are potential targets for precision medicine and for which we now have targeted therapies." According to the recommendations of the ESMO Expert Committee, these patients should receive a comprehensive genetic analysis early, before or during first-line therapy, and be treated with drugs already approved by the Food and Drug Administration (FDA) and the EMA. This includes, for example, pemigatinib in patients with so-called FGFR2 fusions. FGFR2 is a fibroblast growth factor receptor-2. In bile duct tumours, FGFR2 is fused, so to speak, with other genes due to a genetic malformation. These fusion rearrangements lead to a permanent activation of signalling pathways that contribute to tumour growth.

"Targeted molecular sequencing is a very essential component," Vogel emphasises. It is important that the patients are discussed in a molecular tumour board. The task of such a cross-organ, interdisciplinary tumour board is to identify therapy options for people with severe cancer after the guideline-based treatment has been exhausted. The Molecular Tumour Board is the central instrument of Personalised Medicine and is offered in specialised centres such as the Comprehensive Cancer Center of the MHH. mi