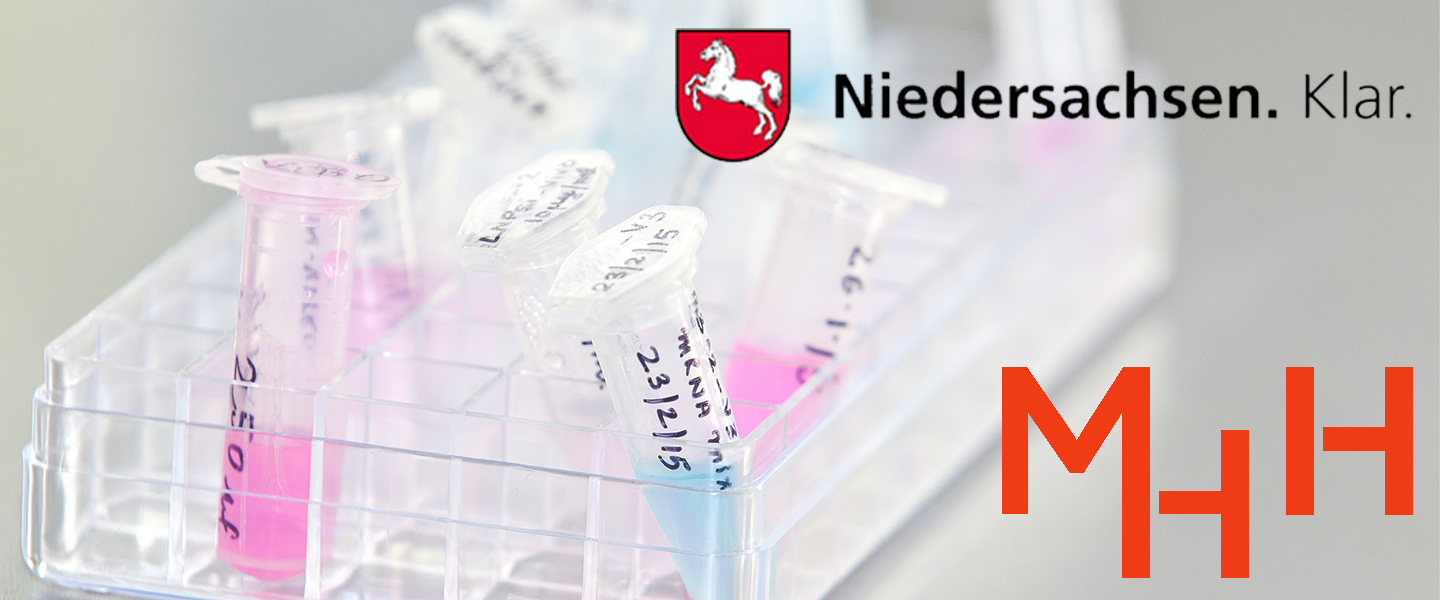 Funded by the Ministry of Science and Culture of Lower Saxony (MWK)
Department / Institute: Rheumatology and Immunology, MHH & HZI Braunschweig
We perform an intensified infectious disease monitoring of people living with HIV (PLWH) by using a specific web-application, which was developed by the Helmholtz Centre in Braunschweig for the prospective monitoring of acute respiratory infections. In case of respiratory symptoms PLWH will be ask to self-perform nasopharyngeal swabs for diagnostics of various viral respiratory pathogens including SARS-CoV-2. Using the web-based application (called PIA), PLWH will be regularly ask to report their respiratory symptoms and to perform the respective diagnostics in case of define disease manifestations. These results will be combined with information about the immune deficiency and disease status in addition to results from serology testing for antibodies against SARS-CoV-2.
Department / Institute: Institute of Virology
We want to generate broadly neutralizing, i.e. protective, human monoclonal antibodies as recombinant proteins for a future antiviral treatment in the early phases of SARS-CoV-2 infection or for prophylactic use. Similar attempts are currntly being made by several other research groups or companies, but we are concentrating our efforts on the generation of recombinant antibodies that show a broad neutralizing effect not only against SARS-CoV-2 but also against related bat coronaviruses that could, in theory, serve as a starting point of a new zoonis - after all, we had three new coronavirus zoonoses in the last two decades (SARS, MERS, SARS-CoV-2). We identify convalescent patients who have overcome a SARS-CoV-2 infection and who produce high titres of neutralizing antibodies. We then isolate their B-cells that produce these antibodies with the help of a recombinant colour-tagged SARS-CoV-2 S protein and sequence their antibody genes. After selecting antibody sequences we express them as recombinant proteins and test them for their capacity to inhibit the cell entry of SARS-CoV-2.
Department / Institute: HTTG
Using non-pathogenic phages we intend to create a relevant viral model on porcine EVLP for assessment of therapeutic approaches for viral lung infections. The aim of this study is to verify the impact of inhalation comparing to conventional application procedures for respiratory viral diseases, especially as a post-exposure prophylaxis to the virus.
Eight porcine lungs were retrieved after a standard cold flush. The explanted lungs were introduced to the OCS according to the standard clinical protocol, followed by inhalation of PA5 bacteriophage. After the incubation, the lungs were divided into two groups and each group was treated according one of the following protocols:
- inhalation of anti-phage antibodies in suitable buffer, n=4;
- perfusion of anti-phage antibodies in suitable buffer (simulation of the i.v. application), n=4;
Blood and tissue samples of the lungs were collected at deferent time points after application of the anti-phage antibodies to assist the phage titer by plaque assay and to assist the localization of antiphage antibodies.
Department / Institute: Institute of Experimental Virology - TWINCORE
In recent years, three genetically and biologically different corona viruses have been transmitted from animals to humans and have caused two epidemics including the current COVID-19 pandemic. The treatment options against these viruses are very limited. The ways corona viruses are transmitted to humans as well as the virus properties that allow cross-species transfer are not fully understood. Therefore, further outbreaks of new corona viruses are expected in the future. In order to be better prepared against genetically different corona viruses in the future, we are working with two genetically different representatives of this virus group to find active substances with broad antiviral effectiveness. To this end, we use compound libraries such as the "drug repurposing" compound library "ReFRAME" of the Scripps Institute as well as proprietary molecules of the Helmholtz Centre for Infection Research and the MHH. In the long term, new therapies against SARS-CoV-2 and related corona viruses are expected to be developed in this way.
Department / Institute: Institute of Immunology
The Institute of Immunology is testing a promising SARS-CoV-2 vaccine candidate in cooperation with the Ludwig-Maximilians-University Munich. The vaccine is based on the well-researched Modified-Vaccinia-Ankara-Virus, to which the gene information for a surface protein of SARS-CoV-2 has been inserted. A special feature of Modified-Vaccinia-Ankara-Virus: it infects cells but cannot replicate. The immune system reacts nonetheless and forms a protective immune response. In contrast to the conventional injection of the vaccine into the muscle, Professor Förster has chosen an innovative approach and is testing the administration via the respiratory tract in preclinical studies. In this way, a particularly strong immune response is to be triggered in the lungs and upper respiratory tract in order to prevent a serious course of the disease and, ideally, to prevent SARS-CoV-2 infection a priori. If the vaccination by inhalation is successful in animal experiments, Professor Förster's team aims to initiate a phase I clinical study.
Department / Institute: Hannover Unified Biobank (HUB)
A consortium of scientists and physician from the MHH and the Helmholtz Center for Infection Research are participating in building a cohort of COVID-19 patients at the MHH.
An intensive molecular characterization of this cohort is also planned.
The cohort enables a better understanding of the pathophysiology of the disease and the detection of biomarkers for the severity and associated metabolic pathways as well as therapy options for the disease.
The COVID-19 cohort will include a total of 1000 patients with varying degrees of severity of the course of the disease or control persons.
For this purpose, samples of blood, living blood cells, plasma, serum, saliva and bronchioalveolar lavage (BAL) are collected, processed and storage in the Hannover Unified Biobank (HUB), the central biobank of the MHH, and make them available for researchers.
Department / Institute: Hannover Unified Biobank (HUB)
The aim of the COFONI collaborative research project is to investigate fundamental and important questions about the virus, the molecular basis for the development of active substances and vaccines, and to predict and influence the pandemic. New findings should help to develop new forms of therapy and provide the state of Lower Saxony with additional tools to protect the population from infections with SARS-CoV-2.
Department / Institute: Peter L. Reichertz Institute for Medical Informatics
The goals of the network are the integration of Lower Saxony's expertise in Corona research and the development of strategies for dealing with future pandemics.The aim of the joint research project is to investigate fundamental and important questions about the virus, the molecular basis for the development of drugs and vaccines, and the prediction and influencing of pandemic events over a longer period of time. New findings will help to develop new forms of therapy and provide Lower Saxony with additional instruments to protect the population from infections with SARS-CoV-2.
Department / Institute: Helmholtz Centre for Infection Research (HZI) - Department of Epidemiology
The humoral immune response to SARS-CoV-2 is a benchmark for immunity; detailed analysis is required to understand the manifestation and progression of COVID-19 disease to monitor seroconversion within the general population and support vaccine development. The majority of currently available commercial serological assays only resolve the SARS-CoV-2 antibody response on an individual antigen level, thus limiting our understanding of the overall immune response. Therefore, the HZI Department of Epidemiology, together with the Natural and Medical Sciences Institute at the University of Tübingen have developed a robust highcontent-enabled, antigen-saving multiplex immunoassay (MultiCoV-Ab) including spike and nucleocapsid proteins of SARS-CoV-2 and the endemic human coronaviruses, which is suited to both monitor vaccination studies and facilitate epidemiologic screenings for humoral immunity towards pandemic and endemic coronaviruses. MultiCoV-Ab is already used in the MuSPAD antibody study in Germany. Use in seroprevalence studies in Colombia and Nepal is in preparation.
Funded by the State of Lower Saxony and its Ministry for Social Affairs, Health and Equal Opportunities
Department / Institute: UKSH, Medical Psychology
ViDiKi 2.0 is a follow-up project to the "ViDiKi" innovation fund project. This is to ensure the continuation of the innovative care concept for children with type 1 diabetes by means of video consultation in an rural area particularly under the conditions of COVID-19, to evaluate long-term effects and to include a new group of patients who were previously excluded from care (children with new or recently onset of type 1 diabetes under 8 years). The project evalutes the effectiveness, safety and feasibility of telemedical care for children with diabetes and their families. New diabetes technologies, rtCGM and central processing of cloud based data were implemented. The central metabolic parameters of the children, the burden on the families, their treatment satisfaction, the satisfaction of the members of the diabetes team and health-economic parameters are evaluated.