Bushra Khan
Doktorandin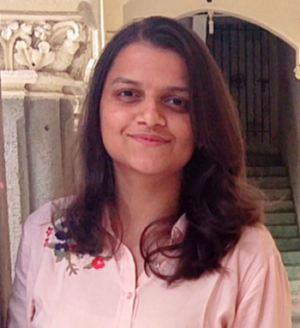 Contact
►Bushra Khan
phone: +49 511 532 -3803 (office), -3654 (lab)
Fax: +49 511 532-161215
Address: 30625 Hannover, Carl-Neuberg-Str.1
Building J03, floor 03, room 1090
Career Summary
She finished her Masters in Biotechnology in 2020 from St. Xavier's College, Mumbai. During her master studies, she worked various projects and got an opportunity to purse her Master thesis at the Chromosome Biology Lab in IISER Pune. At IISER, she investigated the role of nuclear lamins in DNA DSB repair via the NHEJ pathway.
Main Research Focus
Bushra Khan joined the Chromatin and SUMO Physiology group (AG Nayak) through the HBRS MD/PhD Molecular Medicine program. As her PhD project, she is currently investigating the role of the SUMO isopeptidases in skeletal myogenesis and muscle atrophy.
Expertise
Beside her experience in cell and molecular biology, she has experience in bioinformatics such as protein structure analysis tools (RasMol, Ramachandran Plot) and proteomic network analysis such as STRING.
Publication
Emerging Mechanisms of Skeletal Muscle Homeostasis and Cachexia: The SUMO Perspective, Bushra Khan, Luis Vincens Gand, Mamta Amrute-Nayak, Arnab Nayak, Cells, 2023 Feb 17;12(4):644, doi: 10.3390/cells12040644, PubMed

SENP7 deSUMOylase-governed transcriptional program coordinates sarcomere assembly and is targeted in muscle atrophy,
Mamta Amrute-Nayak, Luis Vincens Gand, Bushra Khan, Tim Holler, Ekaterini Kefalakes, Maike Kosanke, Theresia Kraft, and Arnab Nayak, 2022, Cell Reports 41, 111702,
https://doi.org/10.1016/j.celrep.2022.111702