Sarah Konze
Dr. rer. nat.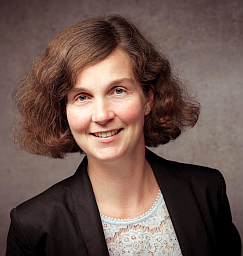 Contact
Tel: +49 511 532 -2754 (office)
Fax: +49 511 532-161215
address: Germany 30625 Hannover, Carl-Neuberg-Str.1
building J03, floor 03, room 1330
Curriculum Vitae
Since December 2021: PostDoc at the Institute for Molecular and Cell Physiology, Hannover Medical School (MHH), Hannover, Germany
February 2020 – November 2021: PostDoc (fellowship funded by German Research Foundation / DFG) at the Translational Metabolic Laboratory, Department of Neurology, Radboud UMC, Nijmegen, Netherlands
August 2014 – January 2020: PostDoc at the Institute for Clinical Biochemistry (formerly Institute for Cellular Chemistry), MHH
June 2010 – July 2014: PhD at the Institute for Clinical Biochemistry Doktorarbeit within the PhD program "Regenerative Medicine" of the cluster of excellence "REBIRTH"
Titel of the thesis: "Effects of Culture Conditions and Cardiomyogenic Differentiation on the (Glyco-) Proteome of Human Pluripotent Stem Cells"
2010: diploma thesis at the Diplomarbeit Institute for Clinical Biochemistry, MHH in cooperation with the Institute of Microbiology, University of Veterinary Medicine, Hannover, Germany
2004 - 2010 study course biochemistry at the Leibniz University, Hannover, Germany
2004: high school diploma, Städtisches Mariengymnasium in Werl / Westfalen
Current focus of research
DFG-funded project: Contractile imbalance among cardiomyocytes as pathogenic factor for Hypertrophic Cardiomyopathy – investigations on human pluripotent stem-cell derived cardiomyocytes carrying MyBP-C-mutations.
The current project focuses on the characterization of induced pluripotent stem cell (iPSC)-derived cardiomyocytes carrying pathogenic mutations in the myosin binding protein C (MyBP-C). These mutations have been identified as the underlying cause of hypertrophic cardiomyopathy (HCM) in patients. With our cell models we are analyzing a potential contractile imbalance among MyBP-C-haploinsufficient cardiomyocytes causing the lesions described in the heart tissue of HCM patients. The obtained results should contribute to a better understanding of the physiological disease mechanisms and pave the way for future therapeutic approaches.
Expertise
Scientific expertise:

Cultivation and differentiation of human induced pluripotent stem cells (hiPSCs), particularly to cardiomyocytes and skeletal muscle cells
Characterization of hiPSCs and hiPSC-derivatives by qPCR, immunofluorescence microscopy and flow cytometry
Generation of disease models using CRISPR/Cas9
Proteomics, glycomics and metabolomics of hiPSCs and hiPSC-derived cardiomyocytes
Microbiological methods
Supervision of bachelor and master internships / theses for students of biochemistry and molecular biology
Teaching: practical courses, seminars and lectures (chemistry / biochemistry) for students of medicine
2019
Konze SA, Abraham WR, Goethe E, Surges E, Kuypers MMM, Hoeltig D, Meens J, Vogel C, Stiesch M, Valentin-Weigand P, Gerlach GF, Buettner FFR. (2019) Link between Heterotrophic Carbon Fixation and Virulence in the Porcine Lung Pathogen Actinobacillus pleuropneumoniae. Infect Immun. Vol. 87, Issue 9, :e00768-18.
Rossdam C, Konze SA, Oberbeck A, Rapp E, Gerardy-Schahn R, von Itzstein M, Buettner FFR. (2019) Approach for Profiling of Glycosphingolipid Glycosylation by Multiplexed Capillary Gel Electrophoresis Coupled to Laser-Induced Fluorescence Detection To Identify Cell-Surface Markers of Human Pluripotent Stem Cells and Derived Cardiomyocytes. Anal Chem. Vol. 91, Issue 10, pp. 6413-6418.
2018
Wolling H, Konze SA, Höfer A, Erdmann J, Pich A, Zweigerdt R, Buettner FFR. (2018). Quantitative Secretomics Reveals Extrinsic Signals Involved in Human Pluripotent Stem Cell Cardiomyogenesis. Proteomics. Vol. 18, Issue 14, e1800102.
Stumpp NS, Konze SA, Gerardy-Schahn R, Stiesch M, Buettner FFR. (2018) A single-step transconjugation system for gene deletion in Aggregatibacter actinomycetemcomitans. J Microbiol Methods. Vol. 148, pp. 74-77.
2017
Konze SA, Cajic S, Oberbeck A, Hennig R, Pich A, Rapp E, Buettner FFR. (2017). Quantitative Assessment of Sialo-Glycoproteins and N-Glycans during Cardiomyogenic Differentiation of Human Induced Pluripotent Stem Cells. Chembiochem. Vol. 18, Issue 13, pp. 1317-1331.
Konze SA, Werneburg S, Oberbeck A, Olmer R, Kempf H, Jara-Avaca M, Pich A, Zweigerdt R, Buettner FFR. (2017). Proteomic Analysis of Human Pluripotent Stem Cell Cardiomyogenesis Revealed Altered Expression of Metabolic Enzymes and PDLIM5 Isoforms. J Proteome Res. Vol. 16, Issue 3, pp. 1133-1149.
2014
Konze SA, van Diepen L, Schröder A, Olmer R, Möller H, Pich A, Weißmann R, Kuss AW, Zweigerdt R, Buettner FFR. (2014). Cleavage of E-cadherin and β-catenin by calpain affects Wnt signaling and spheroid formation in suspension cultures of human pluripotent stem cells. Mol Cell Proteomics. Vol. 13, Issue 4, pp. 990-1007.
2011
Buettner FF, Konze SA, Maas A, Gerlach GF. (2011). Proteomic and immunoproteomic characterization of a DIVA subunit vaccine against Actinobacillus pleuropneumoniae. Proteome Sci. Vol. 9 , Issue 1, p. 23