Mamta Amrute-Nayak
Dr. rer. nat.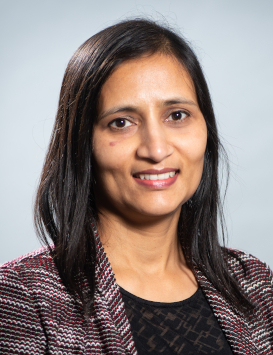 Contact
Tel: +49 511 532 -2754 (Office), -3654 (Lab)
Fax: +49 511 532 -4296
Address: 30625 Hannover, Carl-Neuberg-Str.1, Germany
Building J03, Level 03, Room 1330
Career
Since 2017: Principal Investigator im Institut für Molekular- und Zellphysiologie an der Medizinischen Hochschule Hannover (MHH)
2012-2016: Postdoctoral researcher Institute of Molecular and Cell Physiology, Medical School Hannover, Germany.
2008 - 2011: Postdoctoral researcher in Medical research council- Laboratory of Molecular Biology (MRC-LMB), Cambridge, United Kingdom.
2003 – 2006, Ph.D. in Institute of Molecular and Cell Physiology, Medical School Hannover, Germany.
2001-2002, Junior research fellow in National Center for cell sciences (NCCS), Pune, India
Master of Science (M.Sc.) from Pune University, Maharashtra, India..
Current Research Focus
Single molecule studies of molecular motor proteins, hypertrophic cardiomyopathy (HCM) mutations in β cardiac myosin.
Expertise
Single-molecule investigations using TIRF microscopy, Optical trapping, Zero-mode waveguides.
Teaching physiology courses (Studentisches Praktikum) for human medicine, dentistry students, and practicals for Master level biomedical students.
Publications
Transformation of the Nonprocessive Fast Skeletal Myosin II into a Processive Motor. Amrute-Nayak M, Nayak A, Steffen W, Tsiavaliaris G, Scholz T, Brenner B. Small. 2019 Feb;15(7):e1804313. doi: 10.1002/smll.201804313. Epub 2019 Jan 18., PMID: 30657637; PubMed
MARK4 regulates NLRP3 positioning and inflammasome activation through a microtubule-dependent mechanism. Li X, Thome S, Ma X, Amrute-Nayak M, Finigan A, Kitt L, Masters L, James JR, Shi Y, Meng G, Mallat Z. Nat Commun. 2017 Jun 28;8:15986. doi: 10.1038/ncomms15986., PMID: 28656979; PubMed
ATP turnover by individual myosin molecules hints at two conformers of the myosin active site. Amrute-Nayak M, Lambeck KA, Radocaj A, Huhnt HE, Scholz T, Hahn N, Tsiavaliaris G, Walter WJ, Brenner B. Proc Natl Acad Sci U S A. 2014 Feb 18;111(7):2536-41. doi: 10.1073/pnas.1316390111. Epub 2014 Feb 3., PMID: 24550279; PubMed
Single-molecule assays reveal that RNA localization signals regulate dynein-dynactin copy number on individual transcript cargoes. Amrute-Nayak M, Bullock SL. Nat Cell Biol. 2012 Feb 26; 14(4):416-23. doi: 10.1038/ncb2446., PMID: 22366687; PubMed
Targeted optimization of a protein nanomachine for operation in biohybrid devices. Amrute-Nayak M, Diensthuber RP, Steffen W, Kathmann D, Hartmann FK, Fedorov R, Urbanke C, Manstein DJ, Brenner B, Tsiavaliaris G. Angew Chem Int Ed Engl. 2010;49(2):312-6. doi: 10.1002/anie.200905200., PMID: 19921669; PubMed
Inorganic phosphate binds to the empty nucleotide binding pocket of conventional myosin II. Amrute-Nayak M, Antognozzi M, Scholz T, Kojima H, Brenner B. J Biol Chem. 2008 Feb 15;283(7):3773-81. Epub 2007 Dec 12., PMID:18079122; PubMed
Third-party funding
Deutsche Forschungsgemeinschaft (DFG)
Funding from Medical School Hannover (MHH)
Hochschulinternen Leistungsförderung (HilF), Early career research grant.
Collaborators
Prof. Georgios Tsiavaliaris (Biophysical chemistry, Hannover Medical School)
Dr. Xuan Li (Cambridge, UK)
Dr. Toshio Yanagida (Riken, Japan)
Dr. Mitsuhiro Iwaki, (Riken, Japan)