EDUROAM-Service at MHH
Education Roaming (EDUROAM) is an initiative that enables members of participating universities and organizations to access the WI-FI at any participating location.

This eliminates the need to set up guest access at a foreign university.

In Germany, the EDUROAM service is being set up by the German Research Network (DFN) in close coordination with the computing centres of the institutions connected to the scientific network.

An overview of the participating sites can be found here:
Notes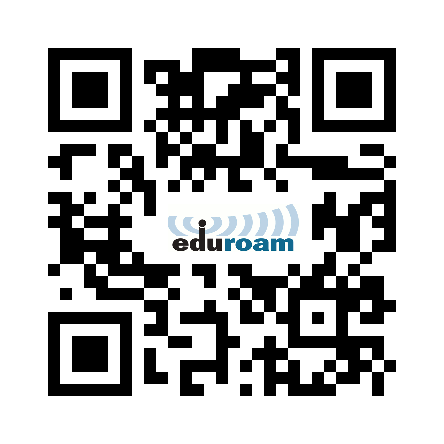 The same account data issued by the home institution can be used to log in to the EDUROAM network.

The following settings only have to be made once for the respective end device. After the initial setup, all that needs to be done in the future is to select EDUROAM from the list of available WI-FI networks. This also applies when visiting other facilities that are members of the EDUROAM network.

The procedure is different for each operating system (Windows, Android, iOS, etc.). Below you will find instructions for various operating systems for setting up access to the EDUROAM wireless network on your smartphone, laptop, tablet, etc.
Please download Configuration Assistant Tool from the following address:

https://cat.eduroam.org/?idp=5254
or scan the QR code on the right side:

The login (authentication) is always done in the following way, unlike webmail:
User name, for example employees: mmustermann@mh-hannover.de
Username, for example students: s-musterfrau@mh-hannover.de (without the addition of "stud"!)
The service allows registered students, researchers and employees of participating institutions to get internet access via WI-FI on the respective campus.

MHH members can use the WI-FI at other eduroam locations. The basic requirement is a valid MHH user name. The WI-FI name is eduroam.

From now on only the new T-Telesec certificate is valid in the eduroam network!

Areas of the MHH, which allow access to the free WI-FI for visitors, students and patients without MHH usernames, can be viewed here: https://www.mhh.de/en/zimt/zimt-wichtige-links/wlan