Work group Prof. Dr. Dirk Schlüter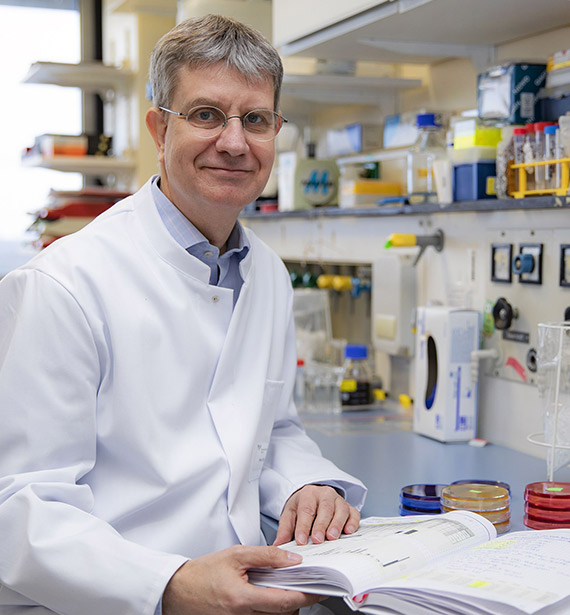 The development of infectious diseases is significantly determined by the immune response of the host. In order to be able to better induce protective immune responses we study murine infection models (toxoplasmosis, listeriosis, malaria) by analyzing the following aspects:

1. In addition to leucocytes organ-derived, parenchymatous cells of infected organs contribute to the control of infections. For analyzing the function of parenchymatous cells of the brain (astrocytes, neurones, mikroglia), the liver (hepatocytes) and the gut (epithelial cells) we use mouse strains with selective deletion of immunologically important genes in these cells. The aim is to reach a better understanding of the selective immunological function of these organ-derived cells and to be able to modulate them.

2. The activation and protective function of leukocytes and parenchymatous cells is controlled significantly by signal transduction molecules. In the infection models used by us we mainly focus on inhibitory signal transduction molecules in order to stimulate protective immune responses or to inhibit detrimental immune responses by their modulation.
These research projects are suppor
Members of the Work Group Schlüter
Most important publications:
Nishanth G, Wolleschak D, Fahldieck C, Fischer T, Mullally A, Perner F, Schnöder TM, Just S, Heidel FH, Schlüter D (2017). Gain of function in Jak2(V617F)-positive T-cells. Leukemia. 31(4):1000-1003.
Just S, Nishanth G, Buchbinder JH, Wang X, Naumann M, Lavrik I, Schlüter D (2016). A20 curtails primary but augments secondary CD8+ T cell responses in intracellular bacterial infection. Sci Rep. 6:39796.
Dong W, Wang H, Shahzad K, Bock F, Al-Dabet MM, Ranjan S, Wolter J, Kohli S, Hoffmann J, Dhople VM, Zhu C, Lindquist JA, Esmon CT, Gröne E, Gröne HJ, Madhusudhan T, Mertens PR*, Schlüter D*, Isermann B* (2015). Activated protein C ameliorates renal ischemia-reperfusion injury by restricting Y-box binding protein-1 ubiquitination. J Am Soc Nephrol. 26(11):2789-2799. * equal contribution
Nishanth G, Deckert M, Wex K, Massoumi R, Schweitzer K, Naumann M, Schlüter D (2013). CYLD enhances severe listeriosis by impairing IL-6/STAT3-dependent fibrin production. PLOS Pathogens. 9(6):e1003455.
Wang X, Deckert M, Xuan NT, Nishanth G, Just S, Waisman A, Naumann M, Schlüter D (2013). Astrocytic A20 ameliorates experimental autoimmune encephalomyelitis by inhibiting NF-κB- and STAT1-dependent chemokine production in astrocytes. Acta Neuropathol. 126(5):711-724.
Haroon F, Drögemüller K, Händel U, Brunn A, Reinhold D, Mueller W, Trautwein C, Ernst M, Deckert M, Schlüter D (2011). Gp130-dependent astrocytic survival is critical for the control of autoimmune central nervous system inflammation. J Immunol. 1868(11):6521-6531.
Drögemüller K, Helmuth U, Brunn A, Sakowicz-Burkiewicz M, Gutmann DH, Mueller W, Deckert M, Schlüter D (2008). Astrocyte gp130 expression is critical for the control of Toxoplasma encephalitis. J Immunol. 181(4):2683-2693.
Sakowicz-Burkiewicz M, Nishanth G, Helmuth U, Drögemüller K, Busch DH, Utermöhlen O, Naumann M, Deckert M, Schlüter D (2008). Proteinkinase C-θ critically regulates the activation and proliferation of pathogen-specific T cells in murine listeriosis. J Immunol. 180(8): 5601-5612.
Virna S, Deckert M, Lütjen S, Soltek S, Foulds KE, Shen H, Körner H, Sedgwick JD, Schlüter D (2006). TNF is important for pathogen control and limits brain damage in murine cerebral listeriosis. J Immunol. 177(6):3972-82.
Meissner M, Schlüter D, Soldati D (2002). Role of Toxoplasma gondii myosin A in powering parasite gliding and host cell invasion. Science. 298(5594):837-840.