Contacts & Office Hours
International Office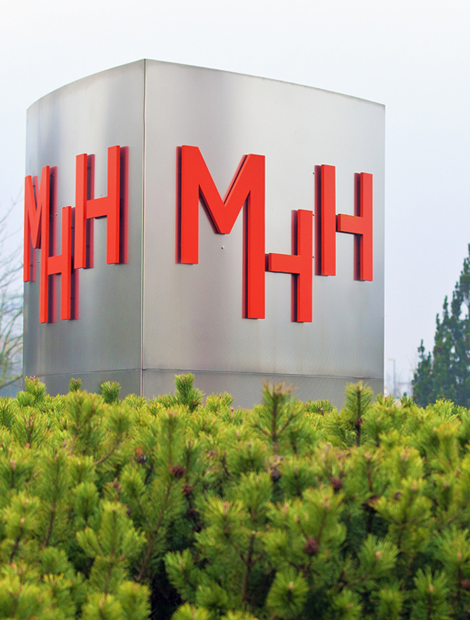 Where to find us: Building J01, Level S0, Room 1170 (Map)
Angela Steinhusen ERASMUS+ projectcoordinator & PROMOS projectmanager
Phone: +49 (0)511 - 532 6026
E-Mail: steinhusen.angela[at]mh-hannover.de
Office hours (no appointments):
Monday 13 - 15 o'clock Tuesday 13 - 15 o'clock Thursday 10 - 12 o'clock
Lisa Ziemann, M.A. International students and internships, project coordinator IsiE MHH & IsiE MHH Plus
Phone: +49 (0)511 - 532 6027
E-Mail: ziemann.lisa[at]mh-hannover.de
By appointment only
Dr. rer. nat. Beate Schwinzer MWK grant applications, conflict counseling, contact for refugees
Phone: +49 (0)511 - 532 6002
E-Mail: schwinzer.beate[at]mh-hannover.de
By appointment only
Hannover Medical School was awarded the Erasmus+ Charta for Higher Education for the entire programme period from 2021 to 2027.
ERASMUS+
Study (SMS)
ERASMUS Study Stay (SMS)
When planning a stay in the Hannover Medical School you will find the necessary information here (list of documents available in English):
ERASMUS Project Coordination:
Akademisches Auslandsamt - International Office
(Library Building I 1, Ground Floor - S, Room S0 1170)
Ms Angela Steinhusen
Carl-Neuberg-Str. 1
30625 Hannover
Germany
steinhusen.angela@mh-hannover.de
Tel. + 49 511 532 6026
The International Office is responsible for the administrative procedures of the exchange programmes. This includes the financial administration, help with accommodation, information of incoming and outgoing students, and the preparation and distribution of application forms etc.
ECTS-Coordination, Study Advice:
Office for Study Affairs - Studiendekanat
PD Dr. Volkhard Fischer
fischer.volkhard@mh-hannover.de
Tel. + 49 511 532 6015
Fax + 49 511 532 6003
The Office for Study Affairs helps incoming Erasmus students with all questions concerning the curriculum and the organizational aspects of their study stay, such as choice and location of courses and lectures, timing and application for practicals, clerkships, exams, or any other problems which may arise.
The ECTS Coordinator is the person to accept the Learning Agreements and to issue the Transcript of Records for incomings. He is also charged with the evaluation of the study programmes of outgoing and incoming students.
ERASMUS+
Internship (SMP)
Practical Training sponsored by ERASMUS+ SMP (Student Mobility Placement)
If you are planning a practical clinical training (Famulatur) or a short-time research training in a laboratory (Laborpraktikum) at Hannover Medical School (Medizinische Hochschule Hannover - MHH), please apply about 6 months before you would like to start at MHH.
Your request should contain the following information and documents:
full name
home university, home country
Institute / department, in which you would like to complete a traineeship. Please bear in mind that the minimum duration of stay in each institute / department is at least 4 weeks. Click here for a list of our clinical departments and our research institutions.
exact dates of the planned stay: start is always Monday, the end is always Friday. Please note that the minimum duration in the framework of ERASMUS+ SMP is 60 days
CV
Enrollment certificate from your university with the anticipated date of graduation
Knowledge of German (proficiency level B1/B2, depending on the hosting department) is required. Please consider that patients speak German only, and clinical conferences, ward rounds etc. take place in German even if most doctors speak English. The better you know German, the more you will profit from your stay at the MHH.
Please send you application per email to Ms Lisa Ziemann (ziemann.lisa@mh-hannover.de) in the
International Office - Akademisches Auslandsamt
Library Building J1, level S0, Room 1160
Carl-Neuberg-Str. 1
30625 Hannover
Germany
Tel. + 49 511 532 6027
Possible places for internships are determined by the availability of places in the respective departments and institutes.
If you are accepted for an ERASMUS+ SMP internship you have to hand in the following documents per email to Ms Lisa Ziemann:
Transcript of record
ERASMUS+ Learning Agreement for Traineeship (filled in by you, signed by you and the responsible person at your home university)
Valid health certificate and anamnesis questionnaire: The Health Certificate form & Anamnesis Questionnaire need to be filled in and signed by your local physician and returned to Ms Ziemann at least 2 months before your arrival in Hannover
The following insurances will be mandatory. Please send proof in German or English: personal health, personal liability, malpractice and accident insurance
Accommodation can be offered to ERASMUS+ students by the Studentenwerk Hannover in one of the MHH-dormitories, if there are any vacancies. Please register and apply as soon as possible here.
For your information: you can only rent and move in on/from the 1st or on/from the 16th of each month.
If you are planning an ERASMUS+ - placement at MHH, here you find more helpful information about MHH, the surrounding and maybe more answers to your questions:
Information for International Postgraduates
Continuing Education at MHH: Study, Training, Research
Hannover Medical School (MHH) is one of Germany's leading universities in the field of medicine and life sciences. Patient care, research, teaching, administration, work 'hand in hand' on MHH campus.
With its concentrated support of specialized research areas, MHH has become one of the best university clinics in the country and enjoys international reputation in continuing education and research. Every year, more than 200.000 patients (inpatients and outpatients) are treated at the MHH. Outstanding Medical research is closely linked with the latest diagnostic procedures and therapies. 'Interdisciplinary cooperation' is one of the major aims of MHH. People from more than 40 countries worldwide study, work and do research at MHH, international cooperations and networks with universities and clinics worldwide are constantly being expanded. We welcome applications from abroad.
Physicians will find detailed information about the requirements for medical doctors from abroad (EU and non-EU citizens) seeking further medical training in Germany at the website of the German Medical Association (Bundesärztekammer)
The regional authority for registration ('Approbation') in Hannover (Niedersachsen) is the Medical Association of Lower Saxony
Dentists from abroad please see the website of the German Dental Association (Bundeszahnärztekammer) for general information.
For any training or medical specialization at the MHH one has to apply directly at the respective department or clinic for more specific information or vacancies and application procedure. Click here for a list of our clinical departments and our research institutions.
A special website for international PostDocs of the MHH EU Liaison Office provides support for junior and experienced researchers, who are interested in coming to MHH with their own fellowship and plan to apply e. g. for a Marie Sklodowska Curie Individual Fellowship or a fellowship of the Alexander von Humboldt Foundation. This website is also linked to a list of research groups interested in hosting an international fellow.
If you would like to take advantage of this support, please use the contact form provided at this website.
Information on further MHH research areas can be found at the website of the MHH Dean of Research. If interested, please contact directly the head of the research project in question.