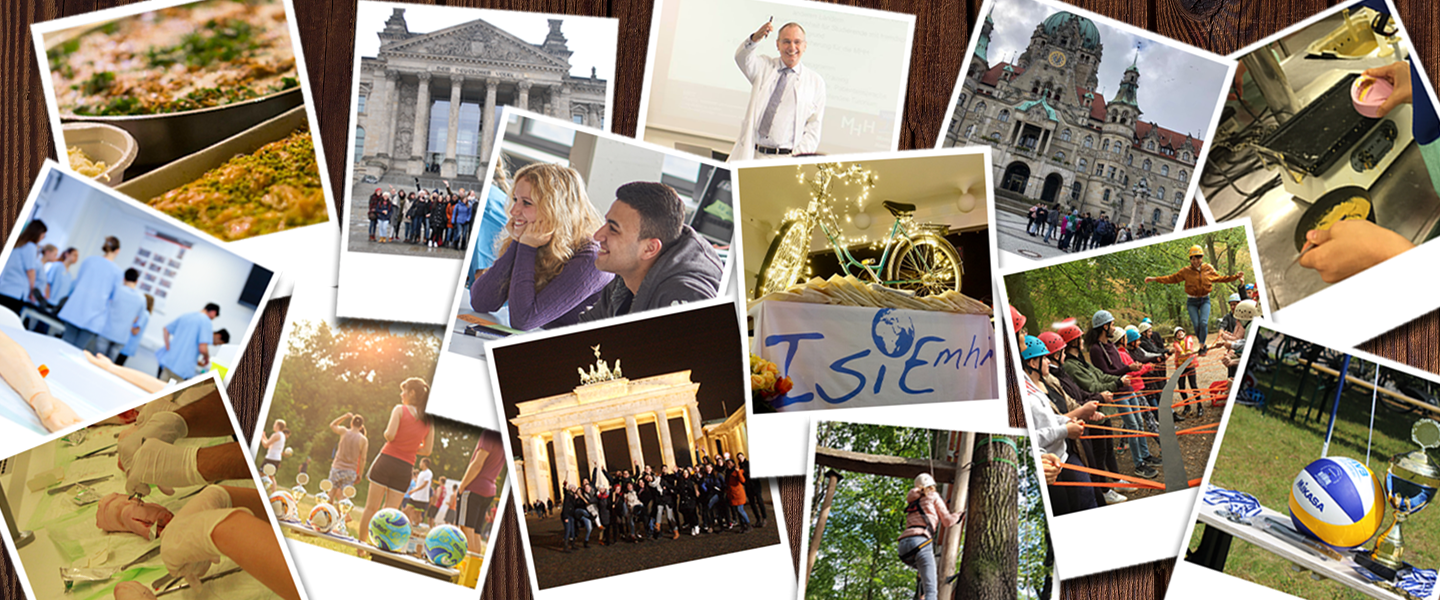 Welcome to Hanover Medical School (MHH) with IsiEmhh
IsiEmhh is a guidance program, especially for first semester students to ease your start in this new exciting chapter of your life.
IsiEmhh - what's that?
IsiEmhh means integration, linguistic and intercultural start into your studies at MHH.
Since 2008, the program is known for promoting integration of students with international background at Hanover Medical School. At first, the program only served medical students and was called IsiEmed but since winter semester 2015/2016 all other majors are included aswell. Hence the name change to IsiEmhh.
One main focus of this project are intercultural skills that are of growing importance in our multicultural society and demand a lot from a new generation of young doctors.
IsiEmhh supports international students who start studying at our university and whose native tongue is not German, especially during their first year of studies. Our aim is to facilitate the start into your studies at MHH and make you feel welcome in your new surroundings.

Moreover, IsiEmhh wants to raise awareness for the important topic of integration and cultural diversity in teaching staff members, staff in the hospital and in research and tries to involve them in the program.
We are looking forward to get to know you and to accompany you during your first term at MHH.
Program
Subject-related tutoring before your studies start and during the semester each week.
Mentoring program in which students will assist you if you need further help.
Intercultural language and integration training for all first-year-students with a foreign language background before the official studies start.
Monthly crackerbarells, cultural evenings with country-specific food, intercultural movie nights and other events such as lectures and discussions promote intercultural amongst the IsiEmhh participants themselves and their fellow students. The annual summer volley tournament is one the highlights.
Many trips will provide you with a deep insight into german culture, history and politics.
Contact Information
Project Head
Professor Dr. Christoph Gutenbrunner
Professor and responsible lecturer for the subject "Propädeutikum" (remedial course) in the first year of medical studies
Director of the Clinic for Rehabilitation Medicine, MHH

"With our program we aim to provide a welcoming culture for students studying abroad in a foreign language at Hannover Medical School. Integration and general well being are of the essence in the pursuit of academic success in its fullest extent."
International Office
Cornelia Ziegler, M.A.
Medical School Hannover (MHH)
International Office
OE 9140, Carl-Neuberg-Str. 1, 30625 Hannover, Germany
Tel: +49 511 532 6027
Ziegler.cornelia[at]mh-hannover.de
Project Group & Seminars
Pia Lange - Chairperson
Anja Tiede - Finance & Excursions
Alena Wittstock - Head of Tutors
Lea Böhm - Crackerbarells & Events
Se Young Jeong - Public Relations
Lukas Riesenhuber - Social Affaires (General Students' Assembly Officer for Incomings)
Human Medicine
Alena Wittstock (Head of Tutors)
Maria Abdulbaki
Majd Faraj
Mohamed Omar
Lukas Riesenhuber
Dental Medicine
Jayne Johnson
Niklas Dramburg
Antje Dunkel