Faramarz Matinmehr
Dipl. Ing. (FH)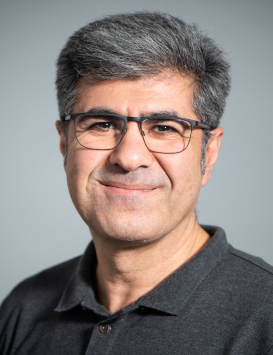 Contact
Tel: +49 511 532 -2630
Fax: +49 511 532 -4296
address: 30625 Hannover, Carl-Neuberg-Str.1, Germany
Building J03, level 03, room 1283
Career
1999 Diplomarbeit FH Hamburg bei Prof. Dr. Wacker, Thema: Zytokinproduktion von Lymphozyten des Sputums und des peripheren Blutes bei Patienten mit allergischem und nichtallergischem Asthma bronchiale oder chronischer Bronchitis
Seit 2005 in der MHH tätig.
Current Research Focus
Funktionelle Untersuchungen an einzelnen Muskelfasern aus Biopsien des M. soleus von HCM-Patienten mit Mutationen in der Myosin-Kopfdomäne
Charakterisierung der funktionellen Auswirkungen von HCM-assoziierten Mutationen in der Myosin-Kopfdomäne. Biomechanische Untersuchungen an Muskelfasern aus M. soleus-Biopsien von HCM-Patienten.
Publication
Mechanical and kinetic properties of β-cardiac/slow skeletal muscle myosin. J Muscle Res Cell Motil. 2012 Dec;33(6):403-17. doi: 10.1007/s10974-012-9315-8. Epub 2012 Jul 31. Brenner B, Hahn N, Hanke E, Matinmehr F, Scholz T, Steffen W, Kraft T.
Cardiomyopathy mutations reveal variable region of myosin converter as major element of cross-bridge compliance. Biophys J. 2009 Aug 5;97(3):806-24. doi: 10.1016/j.bpj.2009.05.023. Seebohm B, Matinmehr F, Köhler J, Francino A, Navarro-Lopéz F, Perrot A, Ozcelik C, McKenna WJ, Brenner B, Kraft T.